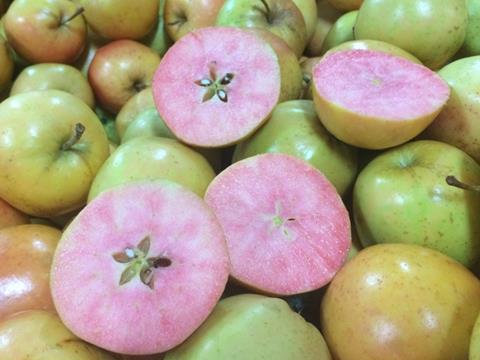 Tesco is trialling a new apple variety that has yellow and orange skin and pink flesh.
Surprize, grown by Herefordshire-based farmer William Barnett, went on sale in 120 stores this week at £1.75 for a pack of four, and was described as a "real head-turner" by Tesco fruit product developer Ciara Grace.
She added that the apple "stops people in their tracks, but the real fun starts when they take a bite and see the unique pink flesh inside. It was named Surprize because of the fantastic reaction it gets".
The new variety follows the Rosette Raspberry Ripple, which has red flesh and was developed by the same grower in 2012.
If successful, Tesco plan to stock Surprize again next year, said Grace. "Most important of all is that it's delicious, with a sweet taste and very juicy but firm flesh."
Barnett said his "apple mission" was to develop better and more interesting varieties of English apple.
"Britain can be proud of its 4,000 or so different apple varieties but what I've set out to do is create something a little different for apple lovers," he added.