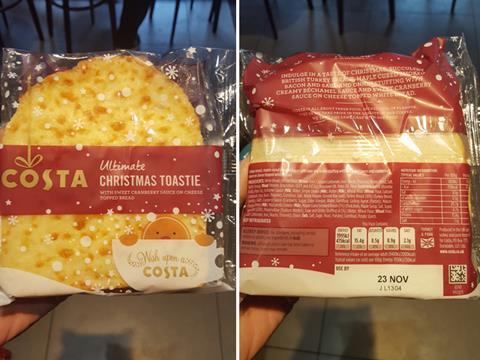 Costa has been criticised by customers on social media for failing to label meat as an ingredient on the front of its turkey toastie.

The front of the item's packaging describes it as the "ultimate Christmas toastie with sweet cranberry sauce and cheese-topped bread," but does not mention it contains both turkey and bacon.

This content is only mentioned on the back of the packaging and fridge labelling where the toasties are stored. The packaging is discarded by Costa employees once the product has been heated up for the customer.

Some customers said they ate the item with the understanding it did not contain meat. Taking to Twitter to flag the issue, one customer who doesn't eat pork said they were 'nearly sick as after the first bite I found out it had bacon and turkey in. Totally ruined my experience. Not happy.'

Another said Costa had 'major labelling issues' and asked why there was no mention of meat on the front of the packaging, while another simply said it was 'weird of Costa not to mention the turkey and bacon'.
Costa apologised for any confusion the packaging caused to its customers, and confirmed the toasties are clearly labelled and that it "states on the back of the pack and on the fridge label that the toastie contains turkey and pork".

"All our pre-packaged food contains nutritional information, including allergens, and our fridge labels reference products that are suitable for vegetarians," a spokeswoman for the coffee chain said. "All product information is available online and in store and we would always encourage customers who are unsure to have a discussion with a member of the store team, who will have been advised on how to help customers make informed choices."

This comes a month after Pret A Manger was rapped by customers when it emerged its food mislabelling was linked to two deaths. The sandwich chain has promised to overhaul its allergen labelling policy on product packaging.

Meanwhile Costa has extended its Coffee Club loyalty scheme to Costa Express machines nationwide following a trial in March. Customers can scan a QR code on the Express machine using the Costa app to redeem points.

Scott Martin, founder and managing director at Costa Express, said: "With the expansion of the Coffee Club loyalty programme scheme available via our machines, Costa Express customers can enjoy quality coffee and benefit from the same rewards and VIP invitations as in-store customers."