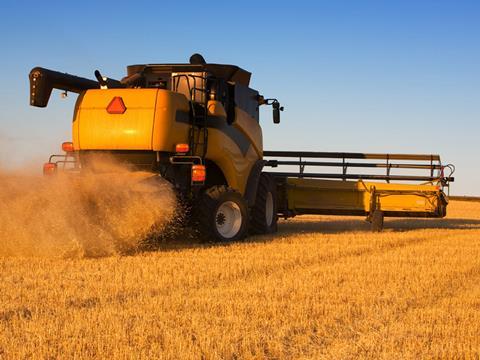 Millers have reassured buyers a reduction in wheat plantings in the UK and other countries will not, in itself, lead to higher flour and bread prices.
The area planted with wheat for harvest in 2015 has fallen 3% on last year's figures, according to the AHDB annual Cereals & Oilseeds Planting & Variety survey published this week.
Flour milling body Nabim described the reduction in planted area as small, and said it was not sufficient in itself to impact prices.
"What could make a difference is the quantity and quality actually harvested, and the wheat harvest will not get underway until the start of next month," added Nabim director general Alexander Waugh.
Rabobank said the decrease in plantings had been in line with existing market projections. But it warned weather in the EU and UK this year had put some stress on crops which meant forecast production could be as much as 10% below last year.
"Not only the EU, but also Russian, Ukrainian and Canadian wheat production will be lower this year and the US crop is suffering quality problems due to ongoing rains," said Stefan Vogel, head of the Rabobank Agri Commodity Markets Research. He added he expected milling wheat future prices on the Euronext pan-European exchange to stay to the above-average level of between €190 and €220 for the rest of this year.
The three-crop rule – implemented under the reformed Common Agricultural Policy to encourage crop diversification – may have impacted wheat planting, said the AHDB. Plantings of Group 1 wheat that is most suitable for bread making had dropped slightly compared with last year but were up considerably compared with 2013 levels.
AHDB analyst Arthur Marshall said the reduction in overall wheat planting suggested potentially lower supplies but that this would depends on what final yields are achieved.
He added that if GB yields were 7.98 tonnes a hectare – a mid-point between the high yield last year and low yield in 2013 – then it would still be higher than in seven of the past 10 seasons.
The AHDB survey showed a 3% increase in barley plantings, and Marshall added that this meant even a low yield would result in total British barley production higher than in six of the past 10 seasons.
Among other changes flagged up in the study - compiled from surveys completed by more than 3,000 farmers - were a 7% drop in planted area of oil seed rape and 1% increase in oats.
AHDB said the sharp drop in oilseed rape was a result of factors including: restriction on the use of neonicotinoid seed treatments, which deterred planting and caused some crop failure; increasing risks in growing the crop pushing down market prices; possible impact of the three-crop rule for farms with intensive wheat and oilseed rape rotations. The biggest declines in rape plantings were in the Eastern and South East regions, while plantings in Scotland rose slightly.
The total area of oats has risen 1% on last year but is below 2013 levels, which were the highest seen in 36 years.