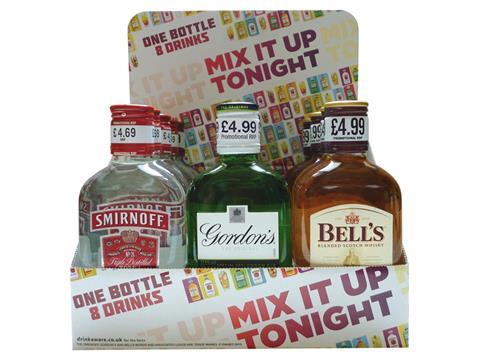 Currency volatility gave Diageo a headache in the first half as operating profits sank £156m to £1.7bn and net sales fell £400m to £5.6bn. The global drinks giant was hit by the declining value of the Venezuelan bolivar, Brazilian real and the continuing weakening of euro versus sterling, as well as the impact of disposals.

Shares in the group, which have been relatively flat in the past two years, fell 1.3% to 1,839.5p on the back of the interims. A 2% revenue slump in North America - its biggest market - did not help CEO Ivan Menezes, who has been under pressure after his bet on emerging markets soured and group organic sales fell three years in a row.

However, there were signs the prolonged hangover was starting to clear as organic net sales in the six months to the end of December came in slightly better than expected, up by 1.8% - as did organic volume growth at 1% higher. And pre-tax profits climbed 12.5% to £1.8bn as Diageo completed the sale of the majority of its wine interests.

The group has also offloaded a number of other assets, including swaps with Heineken in Jamaica, Asia and Africa, to concentrate on its core portfolio. Menezes said Diageo had become "a stronger, more competitive business".

Analysts seemed to agree, with Martin Deboo of Jefferies saying the glass was "half full and filling up". "With the shares trading down on FX and marketing questions, our confidence heads in the opposite direction," he said. "Top line is improving sequentially, de-stocks look to be at an end and the global giant brands are turning around."

Fever-Tree continued last year's remarkable rise, with its shares surging 7% to 635p on Monday after it reported booming sales in the second half of the year. Shore Capital said the business was capable of delivering further upgrades in 2016 given its "excellent brand and product proposition and a lack of competition".

Britvic also made gains, with the stock up 5.2% to 713.1p on Wednesday despite organic sales slipping 2.4% in its first quarter as conditions remained tough in the UK.