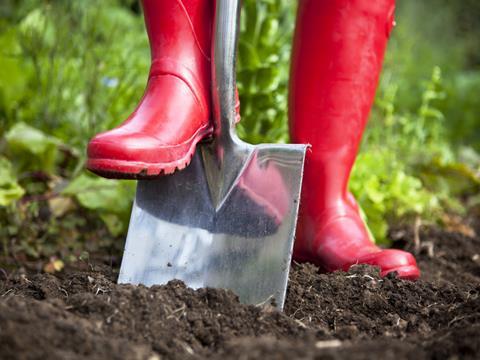 What's on show
What: Farm Shop & Deli Show
When: 20-22 April
Where: Birmingham NEC
Why: The show brings together artisan food and drink producers, buyers, retailers, distributors and suppliers. Exhibitors range from start-ups to established players. New this year is a dedicated section for cheese and charcuterie, and on the Farm Shop & Deli Live stage there will be a Dragons' Pantry pitching session, and appearances from no-nonsense cheese expert Juliet Harbutt and the founders of cult London bakery and café Outsider Tart. On Monday at 2.45pm, the overall winner of the show's Awards 2015 will be announced from among the shortlist of high-achieving regional and category winners. To register, visit farmshopanddelishow.co.uk
On 20 April, the country's finest farm shop or specialist retailer will be crowned at the Farm Shop & Deli Show, chosen as overall champion from a shortlist of regional and category winners. Ranging from family businesses to high street delicatessens and rural estate shops, behind each of these success stories is a determination to survive and thrive in a competitive environment. Along with craft food producers, buyers and suppliers, these retailers will be doing business at the biggest show ever of its kind.
So what does it take to keep the tills ringing in farm shops and delis in 2015? With price perception a constant challenge for speciality grocers, the presence of the supermarkets - troubled or not - certainly looms large.
Nowhere is this more prominent than at Fodder, the Harrogate food hall set up to promote the best of Yorkshire's ­produce. To get to the shop and café, which won both the Food Hall category and North East region awards, you must pass a branch of Sainsbury's. "Our competition is 50 yards away," says Heather Parry, Fodder boss and MD of the Yorkshire Event Centre. "People have to drive past them to come to us. We have quite a lot of signage down the road, and use word of mouth, a lot of advertising in the local press and promotional activities to get people down."
But even without the big orange neighbour, Parry and retailers like her are feeling the effects of the supermarket price war. "We're part of the food retailing offer in the UK like Asda or Morrisons," she says, "and we're all in the same boat in some ways. In the past six months it has been more challenging. People are fighting on price, and that's part of the story but not the whole story. We're still charging 89p a litre for milk, but we're still paying farmers what they were being paid a year ago. We've got to raise the bar and change what we're doing and keep tweaking until we've got it right. It's about what we do differently."
We've got to raise the bar, change what we're doing, keep tweaking until we've got it right"
Ranging is one of the things Fodder does differently from its neighbour. Take Holmfirth dairy brand Longley Farm. "We've got the biggest range," says Parry. "Supermarkets do three flavours of their yoghurt; we do 30.
"When we source a product, we've been out, we've tested it, we know what their animal welfare is like. We also have meet-the-supplier open call events. It's pushing that one supplier you think is amazing. That's about the quality message."
This do-or-die approach, and a tight focus on Yorkshire produce, has resulted in healthy growth, with an annual turnover of £4m. "Sales grew by 10% last year with profit margins staying the same. This year we're growing about 4%, but we get really busy through the summer. We've budgeted for 10% growth this year and I think we'll get it," says Parry. "We're hungry for growth and profit because all the money we make goes to charity [the Yorkshire Agricultural Society], so failure's not an option."
Investing in the unique
Further north, at Knitsley Farm Shop near Consett in County Durham, pies are on the menu. The shop and café, which won in the Farm Shop category, grew out of Rachael and Edward Jewson's family farm and opened in 2008. It's now turning over £1.5m a year, with 60,000 handmade pies contributing annually to the numbers.
Rachael Jewson puts Knitsley's success down to the development of a homemade range. "We've really focused on the way our customers have led us and that is developing our own home-produced items," she says. "We've put a lot of investment into production facilities; a couple of years ago we put a full on-site bakery in the premises. We make things that are unique to us and that nobody else can replicate."
For the Jewsons, the homemade touch extended to redeveloping farm buildings themselves, and now means being visible in the business. That meant when the couple had to let go of their baker, "my husband had to get straight in and learn how to bake bread to keep the bakery side going," says Jewson. "You have to get in at the deep end.
She adds: "We focus heavily on customer service and we're there to make sure that happens. It does your staff good to know you're working with them, and the customers like to feel part of the story and see your face around."
Planning production
Knitsley's Lakeland computer system has helped the company monitor and forecast sales and plan production - essential when wastage is a real risk.
Loyalty schemes are another retail tool that transfers effectively from the mults to the speciality food sector. Chloe Rice, of The Hungry Guest in Petworth, West Sussex, Delicatessen of the Year in this year's Farm Shop & Deli Awards, says: "In the past 12 months we've invested in a new members' card scheme, which is much more than a loyalty card. As well as product discounts and points, members are invited to special events throughout the year. Innovation and listening to customers is crucial to the success of a food business."
Loyalty schemes can add value but a more rounded approach is needed, believes Edward Berry, MD of Ludlow Food Centre, which won in the Midlands region and Butcher category. Situated on the Oakly Park estate, two miles from the Shropshire town, it, too, majors on home-produced food, with an in-house bakery, butchery and, unusually, a dairy making cheese, butter, yoghurt and ice cream. "This place is all about the volume of sales made through food we make ourselves," he says.
The shop caters for both locals and tourists, so loyalty schemes alone aren't enough. "We try to learn as much as we can about our ­customers," says Berry. "We do some research and talk to people. We have a loyalty card and we offer incentives, points and events, but we also try to communicate to visitors through the local hotels and B&Bs."
Communication isn't limited to customers; the shop benefits from management's good relationships with other speciality retailers. "We speak to each other, we share information. We talk about margin, employment, basket size, price comparison with the multiples. We're not scared of saying we're in the business of selling stuff."
Turnover in the shop is £3.5m, with butchery accounting for a quarter of that. "Our big challenge for the next year is spend," says Berry. "We saw a bit of a plateau on basket size in 2014. We're now making good inroads; we think it's about encouraging people to spend with us on things they might have been buying somewhere else."
'Somewhere else' had better watch its back. They may be small, but the best of Britain's farm shops and delis don't lack ambition.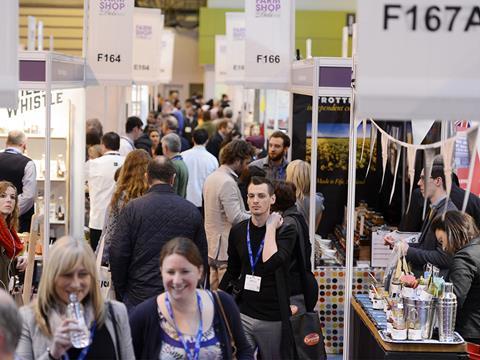 Stylish kit brings farm shops bang up to date
Anyone who associates farm shops with hay bales, sawdust floors and honesty boxes hasn't spent enough time in the stylish environs of this year's Farm Shop & Deli Awards-winning businesses. In an evolving sector, successful speciality food retailers are using hi-tech systems to support their growth and sleek displays to seduce their customers. Retail and production equipment being shown off at the Farm Shop & Deli Show includes chiller cabinets from Angel Refrigeration, Bäro LED lighting, new poultry processing kit from Metcalfe, and a plethora of packaging and labels.
Among the lesser-seen bits of new kit coming to the exhibition will be Phoenix Retail's refrigeration units from Polish manufacturer JBG-2. The plug-in Fitzi impulse spot merchandiser is a diminutive 840x840mm, offering the chance to respond to seasonal demand with chilled top-ups or special offers on a small footprint. "You can pop it in between aisles, at the end of the shop or even by the tills," says Leah Brookes of Phoenix.

Phoenix will also be showing the Holland, a new refrigerated self-serve counter suitable for pre-packed meat and fish. "A lot of people are adding value with marinated meats and such. This will enable them to split that from the fresh meat section of the business," Brookes says.

Lakeland Computers are among exhibitors offering technological solutions. Rachael Jewson, of category awardwinning Knitsley Farm Shop, says its installation of Lakeland's Eureka system 18 months ago was part of a continuing programme of development. "As the business grew, our very basic operating system wasn't anywhere near what we needed. The information we can get hold of now can help us to steer buying choices, look at sales figures and trends, manage production, forecast; it's been such a good business tool."

And not an honesty box in sight.
Sally's Pasta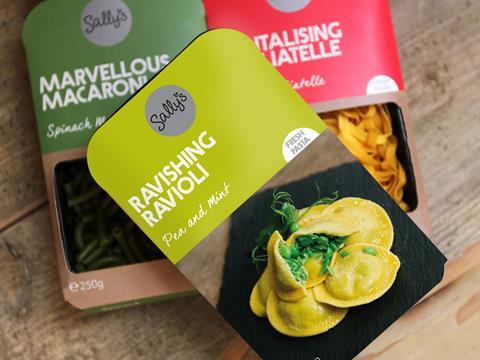 Launched: November 2014
Manufacturer: Wellocks
Now stocked in Selfridges in Manchester's Trafford Centre, Fodder in Harrogate and a handful of farm shops, the range includes Marvellous Macaroni, Perfect Penne and Tantalising Tagliatelle, with Ravishing Ravioli fillings changing seasonally; variants available at the show will include pea & mint (rsp: £4.65/250g). Fillings are all vegetarian, and some plain pastas are available as gluten free.
Epicurean No 1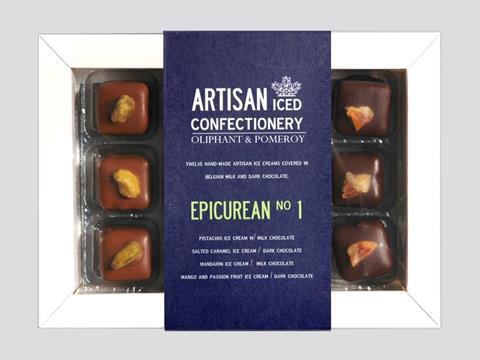 Launching: At the show
Manufacturer: Oliphant & Pomeroy
Gourmet foodies Oliphant & Pomeroy's choc box-style assortment of 12 mini choc ices (rsp: £14/195g) contains salted caramel ice cream and mango with passion fruit ice cream, both coated in dark chocolate, and pistachio and mandarin flavours in milk chocolate. They're made with Jersey cream, fruit purées and O&P's house salted caramel.
Tideford Organics Seasonal Soups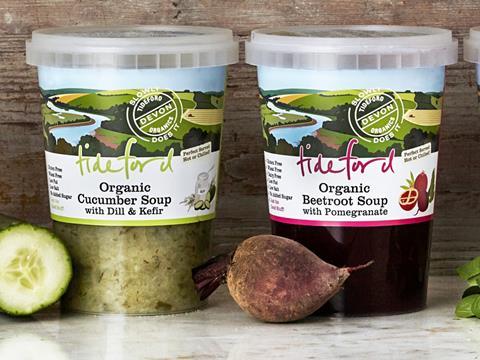 Launching: May 2015
Manufacturer: Tideford Organics
This Devon producer's spring and summer soups are gluten free, with two dairy-free variants also suitable for vegans. Classic Chicken & Spring Vegetables and Gazpacho variants are joined by more adventurous lines such Beetroot with Pomegranate and Cucumber with Dill & Kefir (rsp: £2.79/600ml).
Lushice Sorbets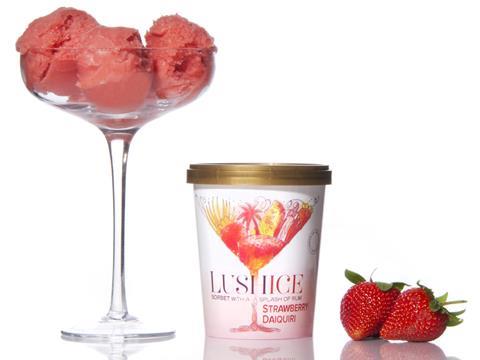 Launching: May 2015
Manufacturer: Artisan Foods
These cocktail-themed sorbets contain 2% alcohol. Made in the North East, the brand is seeking a national distributor for the four original flavours - Mojito, Margarita, Pina Colada and Strawberry Daiquiri - with two more, Apple & Gin and Passion Fruit, Mango & Gin, to come in May (rsp: £1.99/100ml and £4.99/500ml).