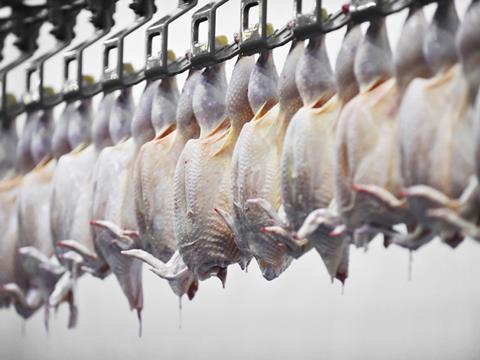 Retailers have made "significant" progress on reducing the number of chickens with the highest levels of campylobacter, according to the latest survey results from the Food Standards Agency.
The FSA today (19 November) published the first set of results from its second year survey of campylobacter in whole chickens at retail, which included Aldi and Lidl for the first time.
The first quarter data revealed that 14.9% of chickens tested positive for the highest levels of campylobacter between July to September 2015, which the FSA noted was a "statistically significant" reduction from 21.7% in July to September 2014.
This brings the industry closer to its joint target to reduce the prevalence of the most contaminated chickens (with levels greater than 1000 cfu/g) to below 10% at the end of the slaughter process, equivalent to 7% at retail, by the end of 2015.
The latest survey also shows a reduction in total levels of campylobacter in chickens at retail, with the bug present on 76% of samples, down from 83% in the same months of last year.
Steve Wearne, director of policy at the FSA said: "It is good to see that some retailers are getting to grips with campylobacter. However, we want to see all of them pulling together to achieve real and lasting reductions.
"I am also pleased that we are starting to see retailers and processors being open with consumers about what they are doing to tackle the problem and about the impact their interventions are having on the chickens they are selling."
The Co-op and Waitrose made the most significant reductions in the proportions of chickens that were most highly contaminated, down to 4.7% and 4.1% respectively. The only retailers which had a "significantly higher prevalence compared to the average" were Morrisons (25.7%) and Asda (23.5%), the FSA said.
New entrants Lidl and Aldi both had below average levels of the highest contaminated chickens at 11.9% and 9.1% respectively.
Waitrose had the lowest level of total campylobacter contamination at 59.2%, followed by Lidl at 65.3%, and Tesco at 76.4%.
Aldi and Asda were slightly above the industry average for total contamination at 76.8% and 76.5% respectively, while M&S (82.7%), Sainsbury's (80.4%) and Morrisons (86.2%) had the highest levels of total contamination.
BRC director of food and sustainability Andrew Opie said: "We are pleased the investment by retailers and suppliers over the last few years is starting to have an impact.
"We recognise there is further to go but we are confident the investment in effective interventions combined with the sharing of what works will continue to make a real difference in tackling this pernicious bug."
Retailer response
A Tesco spokesman said: "We are committed to the reduction of campylobacter in poultry and we are seeing real progress at all stages of the supply chain. Our own data shows 91% of our chicken now tests negative for the highest levels of campylobacter, and we want to remain at the forefront of any developments to improve the quality and safety of our chicken."
A spokesman for M&S said: "We take food safety extremely seriously and our innovative Five Point Plan to tackle campylobacter ensures the highest standards and makes it easy for our customers. We're disappointed that a poor August affected our results, however in last two months we have been back on track and our results over the full year show that our plan is working with cases of the highest levels down by almost a third."
Charlie Field, Asda's chief compliance officer, said: "We're pleased today's results demonstrate the great strides we've made in reducing the incidence of Campylobacter on our chickens and their packaging. Earlier this year we launched our farm-to-shelf Campylobacter Combat Plan and as we move out of trial phase into implementation, we continue to refine our approach in partnership with our suppliers."
Jonathan Neale, managing director of buying at Aldi, said: "Reducing campylobacter levels is an issue that all supermarkets face and we have invested over £2m in a comprehensive action plan to tackle this challenge. Our action plan, which has been endorsed by the Food Standards Agency, is producing positive results. We will continue to invest in new technology and techniques to reduce campylobacter in the supply chain."
A spokeswoman for The Co-operative Food said: "Tackling campylobacter is an absolute priority for our business and we are working hard to reduce its levels. We are pleased this work is starting to have an impact and is reflected in the latest FSA figures. We have a comprehensive action plan and became the first retailer to roll-out roast-in-bag packaging for all our whole chickens. We have also introduced new measures on our farms."
Heather Jenkins, Waitrose director of agriculture and meat, fish and dairy buying, said: "We continue to support the FSA's efforts to highlight the issue of campylobacter and are delighted that the work we have done in conjunction with our supplier Moy Park is yielding significant results. It is important to emphasise that the results we are seeing are being driven by our holistic approach to tackling campylobacter right along the supply chain from farm to fork."
A Morrisons spokesman said: "We have been working hard with our suppliers to reduce the incidence of campylobacter and recent results from our own testing programme have met the FSA target. The FSA results are different from our own testing and we are working closely with them to understand why the difference has occurred. Our work on reducing Campylobacter continues with one of our suppliers introducing Sonosteam this week."