Irish banana distributor Fyffes endured a torrid week after its much-heralded merger with US counterpart Chiquita faced collapse.

Fyffes' London-listed shares plunged by over 14% on Monday after news emerged in the US of a new bid for Chiquita from US juice maker Cutrale and Brazilian investment firm Safra. The bidders have offered $13 per share in cash to Chiquita shareholders, representing a 29% premium on the company's closing price at the end of last week.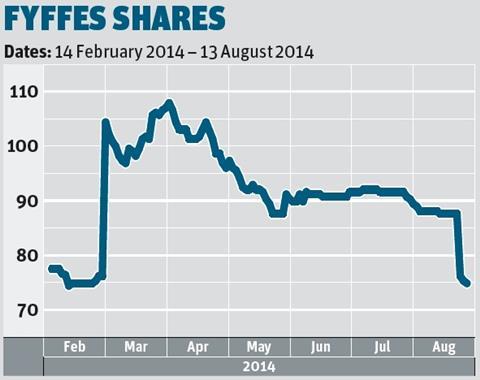 Ratings agency Moody's said it viewed the new proposal "more favourably from a credit perspective", but equity analysts were more split. Analysts from US investment bank BB&T Capital Markets believed Chiquita "will reiterate its desire to complete the merger with Fyffes." However, they warned Chiquita's decision will "become more difficult" if the bidders up their offer.

Cutrale and Safra requested a response by the end of the week and commentators did not rule out the bid going hostile.

Fyffes shares had been trading as high as 111p in April after the deal's announcement, but on Thursday morning the stock was down to 72p having recovered no ground since Monday's plunge. Conversely, Chiquita's shares leapt 40% on the news to end Wednesday trading at $13.42.

Meanwhile, the supermarkets had a little respite after a torrid few weeks. Last week Tesco, Sainsbury's and Morrisons all sank to multi-year lows and they lost ground once more on Tuesday after BRC-KPMG's retail sales monitor showed a 3.5% collapse in quarterly food sales. But the more benign outlook for UK interest rates after the Bank of England's quarterly inflation report helped boost Morrisons 2.1% to 169p on Wednesday. Tesco ended Wednesday up 0.4% to 244.4p and Sainsbury's rose by 0.7% to 303.2p.

Not all food retailers are haemorrhaging sales. Just Eat, one of the few UK-listed companies to update the market this week, said it trebled its first-half profits. Its shares surged by 19% by close of play Wednesday to 162p - back above its 160p April IPO price.