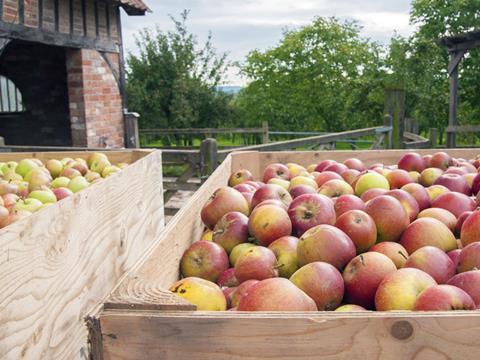 The upcoming 2016/17 English apple season looks set to sustain the upturn in yields seen in recent years, driven by the popularity of Gala and Braeburn varieties.
With the new season due to launch on Wednesday (28 September), growers were currently forecasting a yield of 160,000 tonnes, said industry body English Apples & Pears.
This was a similar level to the 2015/16 season, said EAP CEO Steven Munday, who added the ongoing decline of the Cox apple was expected to continue over the coming year.
Yields of the former staple were due to fall by 15% to about 22,000 tonnes. However, this fall would be offset by an estimated 7% growth in Gala volumes (to 62,000 tonnes) and a 6% growth in Braeburn volumes to 30,000 tonnes.
"Although Cox is still an important British apple, a switch in taste by consumers who increasingly favour a sweeter apple with vibrant colour has hit sales in recent years and led to a reduction in plantings," Munday said.
"Gala and Braeburn are also more efficient than Cox, which just doesn't yield in the same levels. Growers get more for their money from other varieties and you need more trees to deliver similar levels of Cox."
The progress of newer varieties such as Jazz, Zari, Cameo and Rubens were also set to continue this year, Munday said. However, he warned that yields of new varieties as a whole would be slightly down, largely as a result of their greater susceptibility to plant disease canker.
It comes as new research by the grower body suggested a 'Brexit Bounce' – where shoppers were more likely to buy more British produce – was set to benefit the English apple sector.
A quarter of the thousand consumers polled by EAP said they were more likely to buy British produce in the wake of the Brexit result, rising to 31% in London.
The strongest rationale for buying British was purely economic, EAP said, with 84% agreeing it was important to help save British jobs.