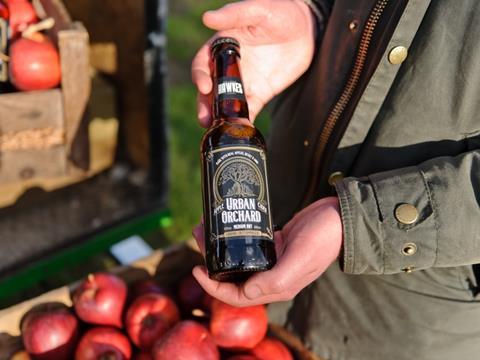 London drinks company Hawkes has followed its alcoholic ginger beer with the launch of its first cider.
Hawkes Urban Orchard is made using apples donated by communities and individuals in urban areas who want to put their unwanted apples to use. Prospective 'apple donors' and community groups can sign up via the Hawkes website.
The 4.5% ABV cider, which uses apples including Bramley, Braeburn, Cox, Jonagold, Ida Red, Gala, Golden Delicious and various unknown varieties, launches to the on-trade this month.
"In all the years I've been in the industry, I've noticed a tectonic shift in the way consumers think about what they're eating and drinking," said Hawkes founder Simon Wright. "People have a desire to become part of something real, from the people producing their beer and cider all the way through to how and where the ingredients are sourced and used.
"I wanted to create a truly London style blend, for our first craft cider, made for the people and inherently, by the people. I really hope that we can grow our list of community and individual donors over the coming years and that people buy into what we're doing and why."