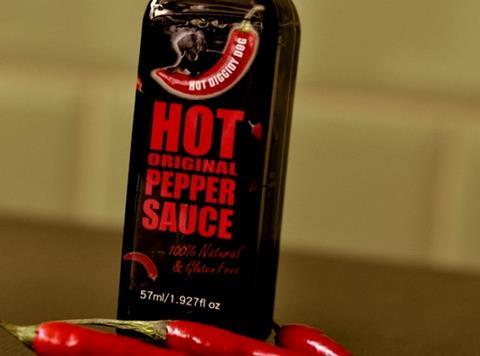 Chilli sauce brand Hot Diggidy Dog faced the dragons of Dragons' Den on Sunday (30 August) but came away empty-handed.
Founder Simon Llewellyn – a former Royal Navy submariner – went onto the BBC2 show looking for a £60,000 investment in return for a 10% stake in his business, which is based in Barry, South Wales.
Although he left the Den empty-handed, Llewellyn said he had received valuable feedback from the entrepreneurs that had given him the confidence to continue developing his business.
Hot Diggidy Dog was founded in 2010 by Llewellyn, who used chillies and other spices on board the submarines to liven up bland food when out at sea for three months at a time. The brand, which features an image of the family sausage dog on pack, is sold in retailers including Tesco, Asda, Spar and Londis. The business has secured a contract to supply the sauce for Ministry of Defence ration packs.
"Hot Diggidy Dog has been running for six years now," said Llewellyn. "We've had our ups and downs but have turned a very significant corner in the past 18 months after winning a Government contract that will see our turnover quadruple.
"In the Den I wanted to be as brutally honest as possible and portray this industry as is, difficult and saturated," he added. "I feel I gave my best account of our business and already there have been significant developments since filming. It's given me the confidence to keep pushing and achieve our goals."