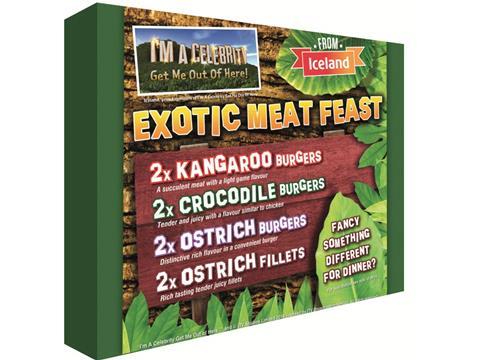 Iceland is marking this month's return of I'm A Celebrity…Get Me Out Of Here with the roll-out of an Exotic Meat Feast that includes crocodile and kangaroo burgers.
Priced £10 and in-store now, the frozen meat pack comprises two kangaroo burgers, two ostrich burgers, two crocodile burgers and two ostrich fillets.
The retailer – which sponsors the ITV show - said it was tapping demand for "new and alternative cuisines", adding the products were lean and easy to prepare.
Kangaroo burgers have "a light game flavour" low levels of fat and are high in protein, while the crocodile burgers are "tender, juicy and have a similar taste to chicken", said Iceland, which described the ostrich fillets as perfect for steak lovers.
"The Exotic Meat Feast is ideal for those looking to introduce quick, versatile and tasty meals into their diet," said Iceland joint managing director Nigel Broadhurst. "It's great for families looking to spice up their menu and they're a great alternative to usual beef burgers as these exotic meats are typically lower in fat and higher in protein."
The launch comes as retailers are showing growing interest in exotic meats, with stores including Tesco, Aldi and Lidl carrying ostrich meat this year.
In another nod to the return of the ITV TV show, Iceland is also bringing back the exclusive Bushtucker Trial Game it launched last year. Priced £5, the snakes and ladders-style game features forfeits including snot balls (profiteroles with sour lemon filling), grubs (spinach-filled gnocchi) and worms (fish surimi). The rewards include marshmallows and chocolate brownies.
I'm A Celebrity…Get Me Out Of Here! is back on TV from 16 November.