Birds Eye owner Iglo Group has pledged to roll out the Marine Stewardship Council (MSC) blue ecolabel on all its wild fish products across Europe by the end of 2015. In an edited version of an interview given for the MSC's Seafood Matters blog, Iglo's director for corporate social responsibility Peter Hajipieris, talks about the supplier's commitment to sustainability.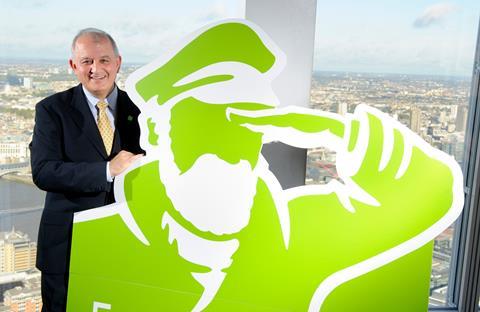 Tell us about Iglo's relationship with the Marine Stewardship Council.
In 2006, Iglo Foods Group was bought from Unilever, which originally founded the Marine Stewardship Council with WWF and since then the relationship remains strong.
Unilever and WWF had the vision of reversing the decline in fish stocks. The reasons given for the decline in fish stocks was mostly because of fisheries management policy failure. The major fisheries weren't being managed properly. It is true to say the collapse of Grand Banks cod shocked everyone because it had such a great impact on fisheries and at a social level.
In 2006, the business took a decision to respond to overfishing of the European Cod Fish stocks and encourage them to recover. We started to work with industry to stimulate sustainable fisheries development by using the MSC standard as an enabler of change and a measure of the status of a fishery's stock levels.
We now have a 100% commitment to responsibly source all of our food and the only fisheries sustainability verification that Iglo currently uses to certifying well managed fisheries is the MSC standard. So we're continuing the journey that was started years ago.
But what we no longer will do is commit to a specific MSC target because this is a very dynamic area of food production and verification and we do not control fisheries.
What were the challenges on that journey?
We attempted to find a substitute to cod and so Birds Eye launched hoki as an alternative but it wasn't a success because UK consumers didn't like the flavour profile.
So we then used MSC-certified Alaskan Pollock from the US and launched the Birds Eye Omega -3 Fish Finger. It remains the largest and most successful new fish product innovation in the sustainability space of any fish launch.
In the first year, the conversion from Cod Fish Fingers to the Omega 3 Alaskan Pollock Fish Fingers was 72% even though people had never eaten the species before as a fish finger.
At the same time, in the background, we supported our suppliers who were instrumental in driving the calls for responsible fisheries management change to encourage the Barents and the Baltic Cod stock to recover.
Birds Eye at the time received widespread media praise including WWF and Greenpeace because this was a sustainable fisheries development linked innovation working at scale in a mainstream food consumption space. If you want to move forwards in sustainability – it can be more effective if you innovate; if you scare people to drive a similar goal consumers will not respond to that as much as positive change.
Now that the Baltic and Barents Sea fisheries have moved away from IUU, we have gone back to selling Birds Eye Cod fish fingers again. Two years ago we introduced MSC cod and haddock fish fingers into the UK market. Just with these two lines we increased the total MSC whitefish volume in the UK market by 22% - that illustrates the love consumers have for fish fingers.
You've got to congratulate the Alaskans because they had the vision to certify their fishery and moved a previously underutilized species into one that is now used across Europe. And it only works because they have been brilliant at providing the right quality and consistency of fish.
What role has Iglo had in influencing the supply chain in Europe?
We took the lead on the cod issue to use MSC certified Alaskan Pollock, and Iglo then worked with the Russian Pollock Catchers Association (most of the quota owners for Far East Russian Pollock) to form the Russian Pollock Sustainability Alliance which is made of fish processing peers and in some cases brand competitors – but we all agreed oin the benefits for sustainable fish sourcing. When the Sea of Okhotsk Pollock fishery got MSC certified it generated nearly one million tonnes of MSC fish into the market place. That's why everyone can now access a much bigger source of MSC certified pollock.
These kinds of projects are complex because you're dealing with fisheries management agencies as well as government; it's far more like diplomacy with fish. But it's also a fantastic example of how in sustainable development - collaboration is so important because the formation of the alliance generated benefits for all.
The biggest challenges we all face with such approaches going forward is that some of these fisheries are national assets and the MSC is an independent but voluntary scheme which relies on the market going upstream and collaborating with these national fisheries.
Bring us up to date with Iglo's overall commitment to sustainability.
We have a strong brand story and sustainable development is a way of doing business - it's not by accident that Forever Food Together – the next phase of our sustainability programme to 2020 has come about. It builds on the progress of the first phase and today we will focus on three goals that encapsulates our sustainability role in society.
Goal 1: 'We will help educate consumers across Europe about the unique advantages of freezing and frozen food to help tackle food waste'
Goal 2: 'By 2020, 100% of our innovation will help consumers make healthier meal choices'
Goal 3: 'By 2020, 100% of our food products will be responsibly sourced and prepared'
We hope that FFT will really resonates across all age groups which is why we have made our Captain go Green as he will be the lead advocate of our Forever Food Together programme.
We access food raw materials globally and the starting point is to make our food resources are resilient. Goal 3 is where you will find our fisheries certification work and supply chain activity.
We've taken the view of our total business and said fisheries are a sector that are most under pressure. It's the most relevant to our consumers and it's the one where we've got a lot of expertise and heritage which we've deployed and directed in the right way.
We're proud of what we've achieved and there's a great legacy that we can call upon. We didn't start this yesterday - it's been a long, hard slog and has become part of our story now.
Is complexity in MSC's standard a strength or weakness?
When you have a consensual-based and multi-stakeholder based programme, you inevitably end up with complexity. The MSC has a large stakeholder community – and one hope this is a strength – one could develop a simpler standard but it wouldn't necessarily be as robust and credible within the same stakeholder community.
The reason why the MSC has to do reach out to such a wide community is because it's a global standard.
Fisheries are tough – we don't understand marine ecosystems as well as we'd like. It's not the same as looking at a farm with 100 chickens. I can leave 20 chickens to reproduce for next year, and I'll go back next year and I'll find another 100 chickens. In a big ocean, there's a lot going on. We've got fantastic science, but we're not God.
But in terms of rigour and thoroughness, the MSC still remains the toughest standard out there to benchmark against.
What changes have you seen in the industry over the past couple of decades?
Fisheries were definitely under pressure, particularly white fish and in some fisheries they still are. But the large white fish fisheries have recovered and are well managed.
We've got record levels of MSC white fish which we didn't have before and that is a good indicator of progress. In the earlier days of just quality assurance we didn't take into account overfishing, we focused on freshness, size and quality of the fish.
The volume of wild capture fisheries has remained stable, but IUU is still an issue. The standard of the world's fisheries has improved, particularly in white fish stocks, they are in a much better condition than since the MSC started.
But there will still be some fisheries on the high oceans where fisheries management is weak. That is a challenge still.
What is the biggest impact the MSC has made?
The biggest contribution that the MSC has made is education across the fish industry, consumers and even policymakers around the relevance and importance of having sustainable fisheries. Now everyone is talking about the issue. They may not always agree but everyone's talking about it.
Consumers rely on policy makers, they assume that someone is doing it for them they don't necessarily get the detail. Education and sustainability go hand in hand - it's a learning journey and it never stops.