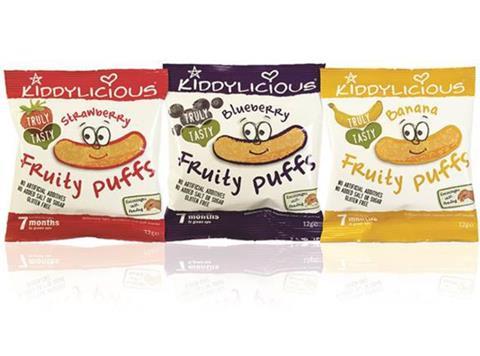 The Kids Food Company, owner of children's snacking brand Kiddylicious, has ramped up its overseas business with new listings in Australia and Japan.
The Buckinghamshire-based business last week rolled out 11 lines across 700 stores in the Coles supermarket chain in Australia, a move it claimed had made it the largest fruit snacking toddler range in Oz.
The products in the Coles line-up – which includes Fruity Puffs and fruit & veg crisps – are all available in the UK but have new packaging compliant with Australian legislation and name changes to help shoppers unfamiliar with the brand.
And this weekend, Kiddylicious products are going into 30 Costco depots in Japan – a listing that came about as a result of a chance meeting when MD and founder Sally Preston was on a flight from Madrid.
"I ended up sitting next to the man who was CEO of Japan's Costco," she told The Grocer. "I was talking about what we did and he said they didn't have any products like ours there, and asked for some samples."
As a result of what Preston called "a chance packet of peanuts on an aeroplane", the supplier has developed a product specifically for Japan: a multipack box with three packs of four different flavours.
"This has opened up Costco globally for us as we now have all the accreditation and compliance they need," she added. "It allows us to go into the American market, for example, or Taiwan."
Asia-Pacific is set to be a key focus for the business in 2015 as it looks to grow its exports to 50% of group turnover by the end of 2016.
And the business is performing well closer to home, with Preston claiming UK sales were up 21% year on year in a toddler snacking category up 3%. Brand growth had been particularly significant in Tesco, she added, and Kiddylicious was picking up new listings "all the time". "We have Superdrug going live next month, and are moving into Ireland with Superquinn, Dunnes and Musgrave," she added.
The business has no plans to expand its offices beyond its Amersham base despites its overseas success, preferring to work with distributors in their local markets. It also has no manufacturing facilities of its own, enjoying the flexibility offered by working with third parties across the globe.
Buyers look on the UK as a "hub of innovation", said Preston. "The UK is at the forefront of creating great products so a lot of the buyers globally look here to see the trends," she added. "On top of that we have a good range that is well received by mums."
"We can go to a market where they haven't yet got a toddler snacking area in their stores and tell them that this is where the UK was five years ago and that they need these products to hold mothers in the baby category for much longer," she said. "Otherwise mums normally leave the category when their children reach about 12 months. These products can keep them coming back until the child is three or four – and buyers want to keep consumers in there."