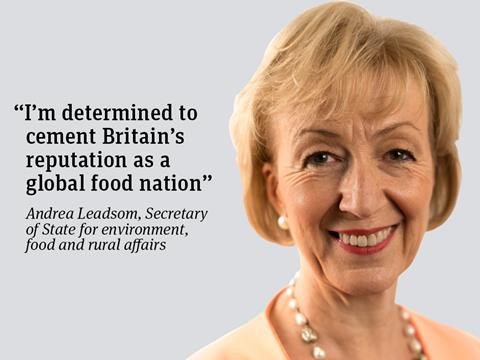 I'm delighted to be taking up the position of Defra secretary. Nothing is more important than the food we eat, the air we breathe and the water we drink.
On 23 June, the people of this country voted to leave the European Union, and we must now carry out their instruction. I believe the Brexit vote gives us an unparalleled chance to design a set of policies tailored to the needs of the UK rather than 28 different member states. We must seize the opportunities that lie ahead for the nation's food and drink sector.
As we make arrangements to leave the EU, I want to work with our European neighbours so that we get the best terms for the industry. My ministers and I will lead from the front in these negotiations, championing the industry and all that it has to offer.
Britain is a truly great country that has always thrived and prospered on the world stage. We have always been a leading economic power, opening markets and championing free trade across the world. And with top quality products, drive and innovation, we will continue to do so. Our world-leading food and drink industry is a key part of our nation's economic success and continues to be a top destination for global companies to do business. Just this month Mars announced a £23m investment at its site in King's Lynn, adding to the billions the industry attracts each year in foreign investment.
The Great British brand is stronger than ever, renowned globally for its quality, innovation and tradition. Whether it's English cheese, Scotch whisky, Welsh lamb or Northern Irish beef, people want to buy our products. International trade is at the heart of our economy. I'm determined to cement Britain's reputation as a global food nation and build on the £18bn in food and drink we sold across the world in 2015.
I know just how important food and drink businesses are to our local communities. In my home county of Northamptonshire, where household giant Weetabix is based, the food and drink industry is worth £1.5bn to the local economy and employs thousands of people.

While much of our focus will understandably be on the future of the industry when we leave the EU, we will not lose sight of the challenges we face now, such as the shortage of skills and apprenticeships in the sector. As technology within the industry becomes more advanced, there will be a real demand for employees who can excel in roles like food science and engineering.

In one of my first jobs as environment secretary I was delighted to attend the launch of 10 new industry-approved food and drink apprenticeship schemes, which have had input from business at every stage of their creation. This illustrates perfectly what can happen when employers and industry bodies work together. British food producers have always been pioneers; excelling, innovating and selling Britain to the world.

Of course, until we leave the EU it is business as usual; the current arrangements for food, farming and the environment remain in place.

In the upcoming negotiations with the EU, we have a real opportunity to forge strong economic links with our European neighbours, as well as our friends in North America, the Commonwealth and other countries around the world.

As we draw up our plans, it is vital that we harness your knowledge, experience and common sense. We will make sure your voices are heard. While there is much to be done, I am enthusiastic and positive about the task ahead. Great British food has a proud heritage and by working together we can ensure it has an even greater future.

Andrea Leadsom is secretary of state for environment, food and rural affairs