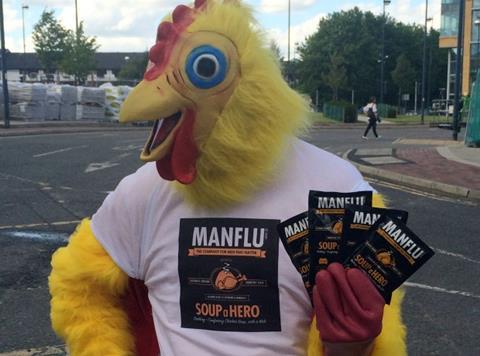 Winter remedies and wellness brand Manflu has launched its first food product – a chicken soup boasting 13 vitamins and minerals.
Rolling into 390 Boots stores from this week, the dried soup (rsp: £1.50/27g sachet) is named 'Soup A Hero' and is being backed as part of the brand's first advertising campaign.
"Home-made chicken soup is a known winter reviver and has been passed down for generations," said Manflu director Jonathan Evans. "Soup A Hero is the ultimate convenient version."
Evans described the soup, which has also secured listings in health food stores and Tree of Life, as a "first of its kind" for offering vitamins and minerals that enabled it to make EFSA-approved immune support, energy release and tiredness-reducing claims. He added this was a point of difference in a category that "is lacking excitement, new news and is chock full of me-toos".
The Manflu range - which includes lozenges, tissues and a supplement - is being supported by social media and its first advertising campaign. A national six-sheet outdoor push covering more than 80 towns and cities will aim "to step-change awareness and drive further incremental sales into the category".