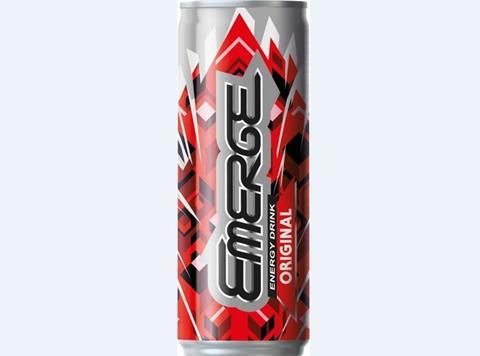 Emerge has unveiled a design refresh across its energy drink portfolio.
The new look retains elements of the old cans, but features a more complex geometric pattern and a tweaked logo. Emerge said the design, which rolls out from next week, would create a more premium look for the brand.
It comes as sales of Emerge are up 49.9% year-on-year to £30.3m [IRI 52 w/e 25 April 2014], with the brand sixth largest in the energy drinks category, after Lucozade, Red Bull, Monster, Relentless and Rockstar.
"The new packaging design is a progressive step forwards for Emerge, future-proofing this popular product in an evolving energy market," said brand manager Calli O'Brien. "Retaining the great taste, affordable price point and standout colours that appeal to our core market, the design enhancements see Emerge take on a more premium look and feel which we are confident will continue to drive and increase demand."