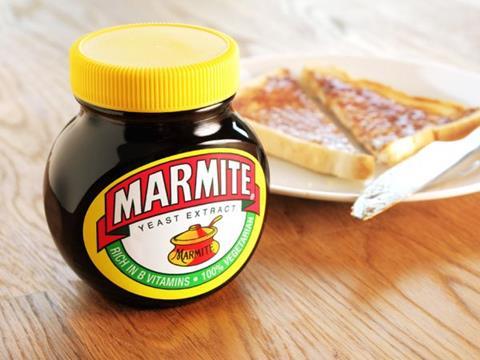 Marmite prices are rising in some supermarkets as inflation hits the spreads sector, confirming fears Marmitegate was just the beginning of price rises for shoppers.

The major mults have kept a lid on the price of a 250ml jar of Britain's favourite yeast extract since Unilever's battle for post-Brexit price increases- it's down 2% year on year on average to £2.36 [Brand View 52 w/e 10 January 2017].
Morrisons, which increased the SKU from £2.35 to £2.64 in October, is now selling it for just £2.28, having dropped its price again in November.
Want in-depth category data? Explore our jams & spreads report 2017

Click on picture to go to report
However, a 125g jar of Marmite Original is now 3% more expensive on average at £1.71, while a 500g jar is 9% up at £4.37, and a 200g Marmite Squeezy bottle is up 2% to £2.44 following price hikes by Asda and Morrisons.

Prices for Unilever stablemate Bovril have also risen, with a 250g jar of the beefy spread of the spread now 7% more expensive at £3.39.
"For Unilever, offering our consumers great value for money and ensuring our brands remain affordable is always of paramount importance," said Jill Ross, vice president for customer development, Unilever UK.

"Any decision to raise cost prices is never taken lightly and only after we have absorbed as much of the cost pressures as we can ourselves.
"As rising retail prices across many categories show, the combined effects of long-term price deflation, rising commodity costs and the devaluation of sterling have created industry-wide pressures that must be constructively addressed."

It comes amid wider price hikes on spreads in the mults as the weakness in the currency and rising commodity prices push up costs.

Nut butters have seen some big increases: the average price of Sun-Pat Peanut Butter Smooth 340g is up 31% to £2 and Whole Earth Foods Organic Smooth Peanut Butter 340g is up 12% to £2.76.
"The price of peanuts soared at the end of 2016," said Gill Green, marketing director at Whole Earth owner Wessanen UK. "So we expect to see prices increasing for peanut butter in 2017."

Prices for honeys and jams are also soaring: Hartley's Best Strawberry Jam is up 11% to £1.43, while Robertson's Golden Shred Marmalade 454g is up 19% to £1.39, and Rowse Pure and Natural Clear Honey 340g is up 14% to £2.76.

"Due to rising prices of raw materials, as well as unprecedented shifts in currency values since the referendum on European Union membership, our costs in sterling have risen," added Ian Ainsworth, Rowse Honey MD.