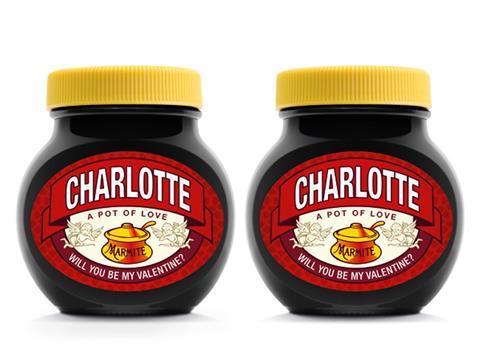 Nothing says romance like a yeast-based savoury spread - or at least that's the thinking behind Marmite's special Valentine's jar.

Available via the Marmite Facebook page, each limited-edition jar (rsp: £4.99/250g) can be personalised with a name and one of two loving declarations: 'Love Me Or Hate Me, I'm Yours' and 'Will You Be My Valentine?'.

A new-look label replaces the usual yellow border with a crimson version scattered in tiny hearts, and the traditional Marmite pot is flanked by Cupids, while the standard 'Yeast Extract' tagline has been replaced by the phrase, 'A Pot of Love'.

"Our personalised classic and Christmas Marmite jars have been a huge hit with fans, and we can't wait to play Cupid by spreading the love with limited-edition Valentine's Day-themed jars," said assistant brand manager Philippa Atkinson.