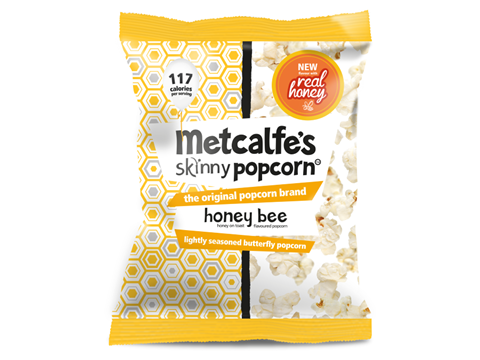 Metcalfe's Skinny has given its popcorn portfolio a makeover and launched a new flavour.
The new Honey Bee variant is going into Sainsbury's this week in a sharing bag format (rsp: £1.59/75g) featuring a more "cohesive and unified" look being rolled out across the range.
The updated packs had been designed to help simplify and improve the shopping experience, said MD Robert Jakobi. He described the flavour of Honey Bee – which is made with 100% natural ingredients - as similar to honey on toast.
As part of the overhaul, the brand's single-serve range has been moved into a smaller packaging format – but will continue to contain 25g of popcorn per bag - as the business looks to differentiate the impulse line from crisps on shelf, said Jakobi.
The Grocer last week revealed Metcalfe's Skinny is to split from parent company Metcalfe's Food on 1 June, with the parent company changing its name to Itsu Grocery.