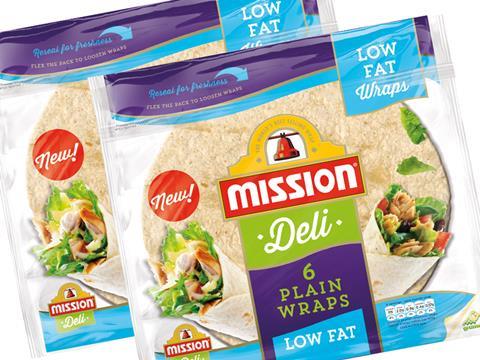 Mission Deli has replaced its reduced-fat wrap with a 'Low Fat' option and added a sweet chilli-flavour.
The new wrap will start rolling out next week and contains 3% fat per 100g, compared to its predecessor's 3.6%. It is launching alongside the new sweet chilli variant (both rsp: £1.30/six-pack and £1.70/eight-pack).
While the reduced fat variant had performed well since launching at the beginning of this year, the new Low Fat option provided an "even stronger" proposition, said marketing head Maria Davies.
She added the launch of the branded sweet chilli wrap followed the success of such a variant in own label. "Having seen the sweet chilli flavour grow 200% year on year in own label, the opportunity our branded alternative will offer retailers could be huge," she added.
For the second year running, Mission Deli has turned its Original wrap packs pink for the month of October in a bid to raise funds for Breast Cancer Care as part of the charity's Breast Cancer Awareness Month.