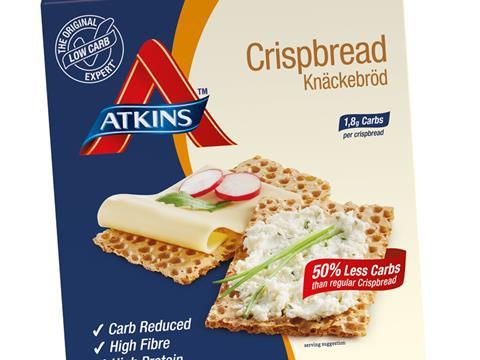 Atkins has launched a crispbread (rsp: £2.19/100g) that the company says has half the carbohydrates of rival brands. The new product rolled out last week in 500 Boots stores.

The crispbread's ingredients include soya flour, chickpea flour, wheat gluten and palm fat, along with wheat flour, resulting in a product that contains only 35g of carbs per 100g - which compares with 66.9g in Ryvita crispbread and 75g in Ryvita crackerbread.

In contrast, the new Atkins crispbread's other nutritional levels - 26g protein, 15g fat and 410 calories per 100g - are all higher than those found in Ryvita.
"Our new meal components, including crispbreads and pasta, are a great example of how we continue to innovate our offering to reflect changing consumer lifestyles," said Atkins UK brand manager Mia Gambrell.
"Atkins represents a low-carb, low-sugar nutritional lifestyle, and with more people considering this approach to weight loss, and indeed to general weight wellness, we want to ensure we are developing a variety of products that suit their needs."