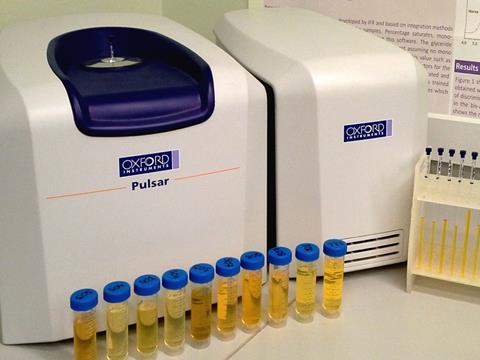 A new test for detecting horsemeat has been developed by The Institute of Food Research (IFR).
The IFR claimed it had, in partnership with Oxford Instruments, produced a "fast and cheap" alternative to DNA testing as a means of distinguishing horsemeat from beef.
The new method, which is said to provide a result in ten minutes, looks at differences in the chemical composition of the fat in meats using similar technology to a hospital MRI scanner, said the IFR.
"Some of the most important meats have fat signatures that we can tell apart easily with this method", said IFR analytical sciences unit head Dr Kate Kemsley. "We think this testing method should work well at key points in the supply chain, say at meat wholesalers and processors."
The test had already been trialled by "a leading meat processor" and was currently being extended to test for other meat species, including pork and lamb, she added. The key technology was the Pulsar - a high resolution nuclear magnetic resonance spectrometer developed by Oxford Instruments, said Kemsley.
The currently favoured method of meat species testing relies on DNA, which can tell one meat from another based on the genetic makeup of the source animals. But this was "relatively slow and expensive" and prone to contamination if not used carefully, said Kemsley.
The news follows the unfolding last week of a new meat labelling scandal involving horsemeat on the Continent. Major Swiss meat supplier Carna Grischa has been accused of selling horsemeat as beef along with a string of other labelling breaches.