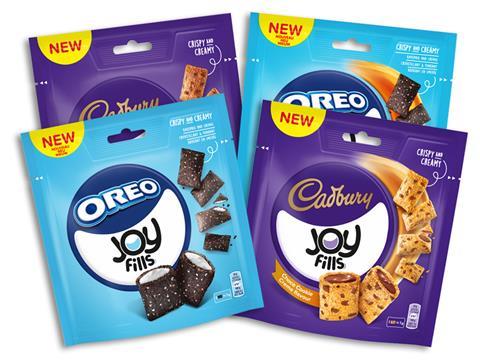 Mondelez has unveiled Joyfills, a range of bite-size, cream-filled biscuits weighing no more than 1g each.
Four variants - Cadbury Milk Chocolate Crème, Cadbury Choco Cookie Crème, Oreo and Oreo Choco Caramel Crème (rsp: £1.50/90g) - will be available from August.
The NPD was "light, crispy bites with a delicious creamy filling", said Mondelez, and "unlike anything else in the market".
"We're so excited to bring something truly innovative to the biscuit market, designed specifically to meet consumer needs," said Joyfills brand manager Carly Sharpe.
"Testing has shown that consumers have a high purchase intent through our strong product offering and pack design, so we believe that this will be a real opportunity for retailers to drive incremental biscuit sales for the afternoon, on-the go and evening treating occasion."
The new range will be backed by a £4m marketing push. "We've got a strong multi-channel campaign to support the range in its first year, with the first burst kicking off from the end of August to the end of October" Sharpe added.