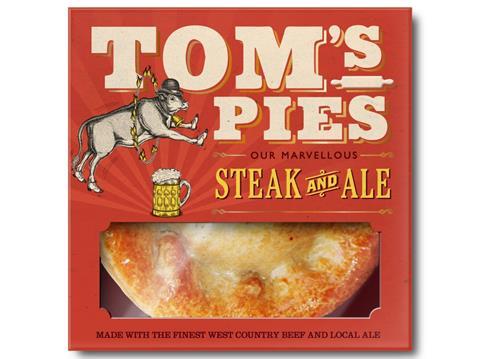 Premium pie company Tom's Pies has secured a listing in Ocado.
The supplier will launch a range of five pies (rsp: £3.49/250g) in the online retailer: Steak & Ale; Chicken & Wild Mushroom; Chicken, Ham Hock & Leek; Lamb with Chickpea & Chorizo; and Mushroom & Spinach with White Truffle Oil. A third-off promotion will run across the range for the course of British Pie Week, which is 2 – 8 March.
Tom's Pies was founded in 2006 by chef Tom Cull, who was later joined by namesake Tom Little, now sales and marketing director at the company. Until now, it has focused on supplying delis and foodservice. To develop its retail packaging, Cull and Little worked with London branding agency Ziggurat, whose previous clients include leading premium pie brand Higgidy.
Although Ocado lists other premium pie brands including Higgidy and Pieminister, Little said he was confident Tom's could secure a slice of the action. "It's becoming increasingly busy – there's quite a few people operating in that premium space, but I don't think that's a bad thing," he said.
"The public's appetite for good food has increased enormously, as has the amount they're willing to spend for provenance and background. I think the market's receptive to it.
"We make all of our pastry from scratch, which is a big point of difference between us and Pieminister. We make everything on site, and the fillings are all made from scratch in quite small batches."