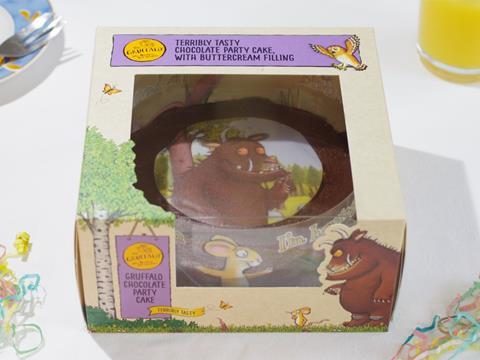 Magic Light Pictures, owner of The Gruffalo, has teamed up with Park Cakes to launch a range of treats featuring the popular children's character.
The first product in the range, a Terribly Tasty Gruffalo Chocolate Party Cake (rsp: £8) is rolling into 278 Tesco stores now, and will be followed later this year by a tray bake and a 3D moulded Gruffalo-shaped cake.
"It's incredibly rewarding to be able to extend the Gruffalo brand and allow children to further immerse themselves in this magical world through delicious food and treats," said Daryl Shute, brand director at Magic Light Pictures.
"We were looking for a long-surviving brand that consumers held close to their hearts and looked upon as a part of their family," said Park Cakes commercial controller Ruth Robson. "The Gruffalo immediately appeared as a clear leader. Consumers treasure the memories they have with the Gruffalo characters and the story itself. They also associate the Gruffalo with high-quality products and this was the final piece of the jigsaw for Park."
Earlier this year, Yorkshire Tea announced a partnership with The Gruffalo, in which the brand pledged to plant one million trees over five years. The brand is also licenced to Thorntons, which makes Gruffalo chocolate figures and advent calendars.