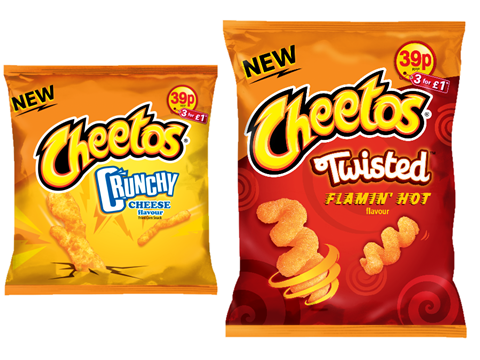 PepsiCo is bringing US snack brand Cheetos to the UK convenience channel.
The puffed corn snacks are already widely distributed in the UK through third parties, and this month is the first time owner PepsiCo has itself distributed the brand in this country since 1990.
Rolling out now, the range includes two single-serve packs of Cheetos Twisted and Cheetos Crunchy, both price-marked 39p, and a £1 price-marked sharing pack of Cheetos Twisted. The single-serve packs will carry a 3-for-£1 promotional flash.
The launch will be supported with POS including a Cheetos and Monster Munch branded four-case stacker.
"We are really excited to continue our support for retailers with the launch of Cheetos in the UK," said PepsiCo head of field sales Matt Goddard. Price-marked packs allowed retailers to demonstrate value for money to shoppers, he added, citing Him! research in which 61% of customers claimed they were more likely to visit a shop if they knew it sold price-marked packs.
Launched in 1948, Cheetos are produced for the US market – where they are one of the largest snacking brands – by PepsiCo subsidiary Frito-Lay.
Note: This story originally stated PepsiCo had not previously distributed Cheetos in the UK. Our correspondent (see Readers' Comments, below) was correct in pointing out that this was not the case and that PepsiCo had rolled the snacks out to UK stores in 1990 under the Smith's Potato Crisps business it had acquired that year. Cheetos were delisted in the UK about ten years later.