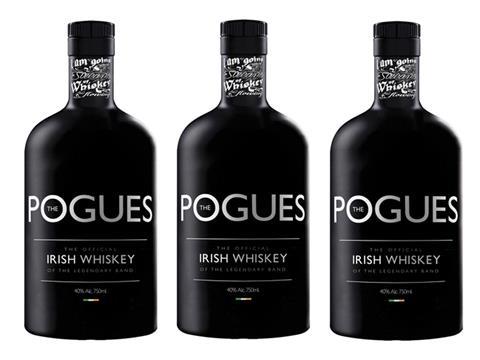 It's an Irish whiskey with the Body of an American: West Cork Distillers have teamed up with folk-punk legends The Pogues to launch a drink named after the band.
The whiskey (rsp: £30) is a blend of grain and 50% single malt whiskeys – which West Cork said gave it a higher malt content than any other blended Irish whiskey.
"We wanted to create an Irish whiskey with global appeal, which isn't without its challenges," said John O'Connell, co-founder of West Cork Distillers."The Pogues offer a perfect partnership as they share many of the same values as our company such as an independent spirit, a slightly unorthodox approach and a commitment to quality, as well as success on the international stage."
"It's been brilliant working with such experts to come up with a whiskey that we all think reflects our spirit and that we all like the taste of," said The Pogues. "It's wonderful to add to the ranks of great Irish whiskeys and we hope it stands the test of time."
The Pogues Irish Whiskey will be distributed in the UK by Halewood International, which also supplies spirits including Lamb's Rum and Red Square Vodka.
"This is a premium whiskey with excellent quality credentials, which we are confident will attract the attention of fans of The Pogues as well as Irish whiskey lovers in general," said Halwewood CEO Stewart Hainsworth.
The Pogues follow in the footsteps of Queen, who have launched a wine, vodka and lager in the last year; and Spandau Ballet's Tony Hadley, who partnered with The Great Yorkshire Brewery to create Hadley's Gold. Iron Maiden teamed up with Greater Manchester's Robinsons Brewery to create Trooper Ale. After the beer sold its ten millionth pint earlier this year, the band and brewery announced the creation of the 'supercharged' Trooper 666, a 6.6% ABV version available from October.