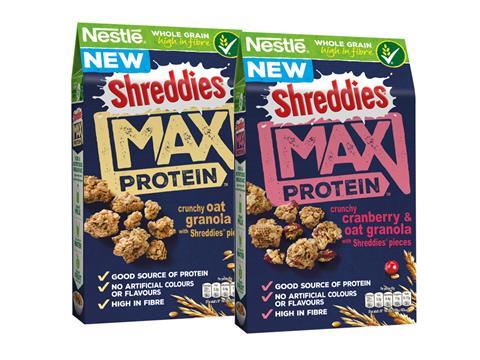 The protein boom is showing no sign of slowing down, with high-protein products already accounting for almost 40% more new launches this year than in 2015.

About 3% of all new food and drink launched in 2016 carried a protein claim - 38% more than in 2015, according to ­figures from Mintel.

Dairy products lead the way, accounting for 30.2% of high-protein NPD during the first seven months of 2016. Cereal lags behind at 5.9%, but could be set for an injection of growth as major breakfast brands embrace the trend.

Shreddies will be the latest big name to jump on the protein bandwagon later this month, when it rolls out Shreddies Max granola in Oat Granola and Cranberry & Oat Granola (rsp: £2.49/400g) - both of which offer 13g of protein per 100g of cereal, compared with the 10g provided by original Shreddies.

Hunger for protein-rich products was "here to stay" as Brits increasingly turned to protein for satiety and to help with weight management, said Barney Mauleverer, co-founder of the Fuel10K high-protein breakfast brand. He predicted a relaxation of European rules to allow 'fuller for longer' claims on pack would further drive the trend.

As the category develops further, experts also believe protein-rich foods targeted at kids have a lot of potential.

According to Mintel, 46% of parents find it hard to ensure their offspring are getting enough protein in their diets. "Parents' lack of confidence suggests high-protein products specifically for children warrant more attention," said senior food & drink analyst Emma Clifford.

Nick Preston, commercial director at Muscle Foods, also said kids-focused NPD was a major untapped opportunity. "It's very important to get protein into a child's diet - though I don't see many suppliers looking to adapt their approach," he said.