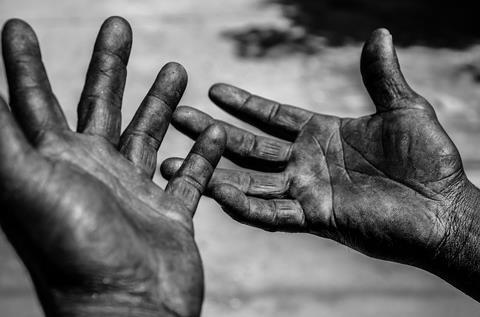 Food supply chains are highly vulnerable to modern slavery and retailers need to go beyond auditing to stamp it out, a new report has warned.
The report, published today (20 October) by the Ethical Trading Initiative and the Ashridge Centre for Business and Sustainability at Hult International Business School, was based on interviews and surveys of 51 major brands and retailers across grocery, clothing and other retail sectors.
It found the majority (71%) believed there was a likelihood of modern slavery occurring at some point in their supply chains, particularly those in high risks sectors such as fresh produce. Although the risk was perceived as higher in developing countries, respondents acknowledged that abuse could also occur in the UK.
"The risk of modern slavery is high anywhere there are vulnerable workers, particularly migrant workers and women recruited on temporary, seasonal contracts, which give them few rights to negotiate their own terms and conditions of work," said Cindy Berman, ETI head of knowledge and learning and report co-author.
The report found close relationships with suppliers were "critical" for identifying and preventing abuse, but the majority of companies had "relatively little vertical integration" in their supply chains.
Additionally, most companies still relied on an audit-led approach to human rights and ethical trade, despite respondents agreeing that auditing is particularly ineffective in identifying instances of modern slavery.
"Companies are starting to realise they have spent the last 15 years investing millions in audits which simply haven't worked in terms of uncovering the invisible risks of exploitation in their supply chain, because modern slavery is so well hidden," said Berman.
She added that most retailers relied on a code of practice which they asked suppliers to meet, but rarely considered whether those suppliers had the capacity and infrastructure to meet their demands.
"Suppliers and farm owners feel squeezed by retailers on one hand and the requirement to do the right thing on the other," she said.
In order to stamp out modern slavery, retailers must start mapping out their supply chains, assessing the risks through every aspect of the procurement process and working more closely with suppliers and each other to ensure "end-to-end" visibility, the report found.
Berman said the first step was for more companies to "stand up and admit there is a problem", adding the ETI had called on NGOs and the media to refrain from attacking those who acknowledged problems in their supply chain.
She admitted competitive tensions could pose a barrier to addressing some of the issues, but warned that "human rights should come ahead of competition".
The research was conducted to give a snapshot of corporate approaches to modern slavery as the UK Modern Slavery Act comes into force this month. It is available to download from the ETI website.