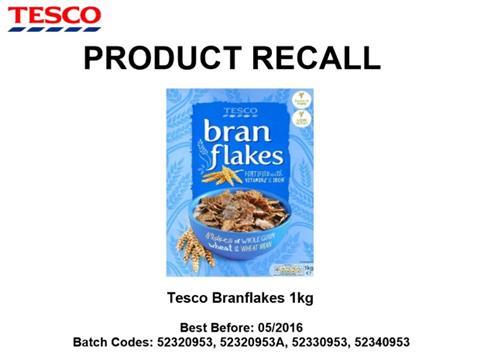 Tesco and Sainsbury's have recalled own-label bran flakes over fears they may contain pieces of plastic.
A production fault means the breakfast cereals may have been contaminated with small pieces of plastic, said the Food Standards Agency, which warned the public not to eat the product.
The affected lines are: 1kg packs of Tesco Branflakes with best before date of May 2016 (Batch codes: 52320953, 52320953A, 52330953, 52340953); and 1kg pack of Sainsbury's Wholegrain Bran Flakes with the best before date of August 2016.
In a statement, Tesco said: "We have been made aware that a small number of Tesco Branflakes packets may potentially contain plastic fragments. We are recalling affected batch codes as a precautionary measure."
Both retailers apologised to consumers and said none of their other products were known to be affected.