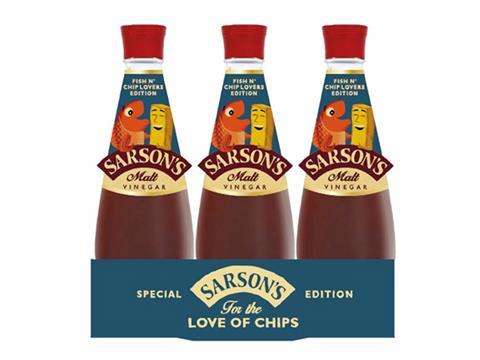 Sarson's Fish and Chip cartoon characters are the stars of a new limited-edition bottle from the malt vinegar brand.

The new label, which launches later this month, will be available until the end February (rsp: 99p) and marks the first time in a decade that its background has changed from red to blue.

Fish and Chip, designed by artist Paul Thurlby, return to Sarson's branding after proving popular during a print and outdoor media campaign in 2014/15. Their latest appearance is aimed at a younger audience, while remaining recognisable to their fan base.

Sarson's want to encourage chip lovers to splash malt vinegar on their meals more often, as the brand stresses its message, "Don't say vinegar, say Sarson's".

"When we created the Fish and Chip characters, we knew their journey wouldn't end with the print and outdoor advertisements," said Sarson's brand manager, Noa Hasegawa. "Consumers told us they loved the characters."

He claimed January and February were the two most popular months for eating chips, and added, "We're very excited to see how consumers respond."

Sarson's is currently found in 21.7% of UK households [Kantar 52 w/e 13 September 2015].