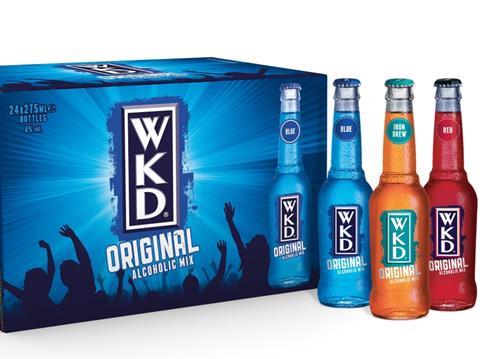 WKD is rolling out a fresh look across its range as it looks to revitalise the brand.
The redesign – which will appear on 700ml and 500ml bottles and multipacks of the RTD - features a reworked WKD logo and more prominent use of the word 'Original'. The new look will also appear on cans, alongside graphics depicting a party scene.
The packaging will roll out during this month, with POS materials available to independents and cash & carries.
"WKD remains by far and away the number one RTD brand, selling two bottles every second in the UK," said Debs Carter, marketing director for alcohol at brand owner SHS Drinks. "The new packaging design reinforces the premium positioning of WKD and also increases visibility and stand-out on-shelf and in the chiller.
"When we researched the new design consumers responded very positively to the fresh, contemporary look and the crowd scene image particularly resonated with WKD consumers."
Sales of WKD fell 11.5% last year to £45.1m [Nielsen 52 w/e 11 October 2014] – though it is still more than twice the size of the second largest RTD, Smirnoff Ice.