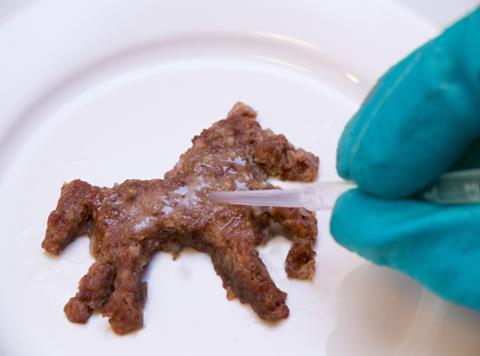 Pan-European testing for horsemeat DNA uncovered 16 new instances in beef products between April and June, the European Commission has revealed.
No cases were reported in the UK or Ireland, with Bulgaria and Hungary returning four positive samples each, Portugal three, and Latvia two. Slovenia, Spain and Denmark all returned a single positive test each. The commission said the 16 cases would be followed up by relevant authorities in each member state.
This was the second round of tests undertaken since the horsemeat scandal last year, and took in all 28 EU countries, plus Norway, Iceland and Switzerland. A total of 2,622 tests were carried out, with 0.6% returning positive traces of undeclared horsemeat DNA, compared with 4.6% of samples in 7,259 tests carried out in 2013.
EU commissioner for health Tonio Borg said the results were encouraging as they demonstrated that the situation had significantly improved on last year.
"Today's findings confirm that our collective efforts are bearing fruit, and that increased controls to uncover food fraud are having a real impact," Borg added. "Restoring the trust and confidence of European consumers and businesses in our food chain is vital for our economy, given that the food sector is one of the EU's largest economic sectors."
In the UK, 150 samples were taken by 24 local authorities at premises including retailers, wholesalers, cold stores and caterers. Any meat found with more than 0.5% of horse DNA was sent for further testing to ascertain whether a positive result had exceeded the 1% reporting threshold.
The FSA said a small number of composition and labelling issues had been detected in relation to the presence of other meats, but not horse.
It confirmed that local authority enforcement officers "were taking action to address non-compliance in all these cases".
Three samples of minced beef products from UK butcher shops contained traces of other meats as a result of cross contamination rather than deliberate adulteration, said the FSA, adding that advice was given to the businesses to ensure proper cleaning of equipment.