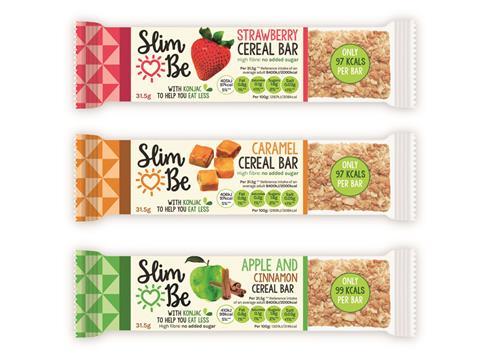 Slim-Be has rebranded to expand its mainstream appeal as part of a growth strategy that will see the diet shot brand it make its first move into cereal bars, noodles and porridge.
The brand, which is based on natural root extract konjac that swells in the stomach to provide a feeling of fullness, is this week rolling out a 'more informal' look across its range of three diet shots, including an updated logo and a stronger emphasis on the brand's 'all green traffic light' credentials and a new 'Small Portion Shots' name.
The revamp had been designed to give the brand a more "general food" vibe and extend its appeal from "solely a diet brand" to suitable for anyone wanting to eat healthily, said founder Franco Beer, adding it was the first step in growing the business "substantially" this year by launching into cereal bars, noodles and porridge. All the new products would contain konjac – the only weight loss ingredient to have the European Food Safety Authority stamp of approval, said Beer.
A three-strong cereal bar range will launch this week into Holland & Barrett, Ocado and The Health Store comprising strawberry, caramel and apple & cinnamon (rsp: 99p/31.5g) variants, followed by konjac-based noodles and porridge later this year, said Beer, adding the privately founded business was hoping to secure listings with the major supermarkets in "the near future". Slim-Be, which appointed Worldwide Brands as its exclusive distribution partner in June last year, is supporting the NPD with a national marketing campaign comprising press, social media and sampling.