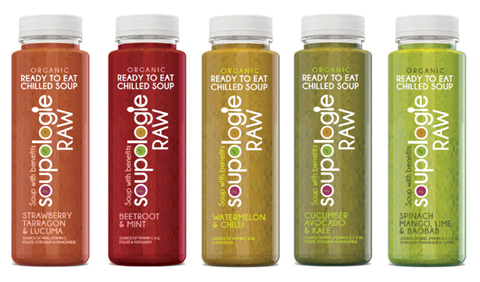 Soupologie is crossing soups and smoothies with the launch of what it claims are UK's first 'raw soups'.
The products, which are available now in Ocado, come in a 250ml plastic bottle (rsp: £4.25) and are designed to be eaten cold and sipped straight from the bottle. The range includes five flavours: Beetroot & Mint; Watermelon & Chilli; Strawberry, Tarragon & Lucuma; Cucumber, Kale & Avocado; Spinach, Mango, Lime & Baobab.
Soupologie said the soups differed from smoothies as they were not based around a juice or liquid base and contained largely whole vegetables and fruit.
"They are savoury with a full-bodied, rounded depth of flavour that comes from the seasoning and herbs, in exactly the same way as a soup that's meant to be eaten warm," said the supplier. "The only difference is that these raw soups are meant to be eaten chilled and we've put them into a bottle for on-the-go ease."
The range:
Cucumber, Kale & Avocado
Cucumber (38%), Red Pepper (13%), Celery (11%), Green Pepper (11%), Avocado Pear (8%), Spinach (6%), Olive Oil, Kale (3%), Apple Cider Vinegar, Basil Leaves (2%), Balsamic Vinegar, Garlic, Green Chilli, Pink Himalayan Rock Salt, Black Pepper
Strawberries, Tarragon & Lucuma
Strawberries (67%), Onion (5%), Red Pepper (6%), Cucumber (13%), Garlic, Tarragon Leaves (0.8%), Balsamic Vinegar, Olive Oil, Pink Himalayan Rock Salt, Lucuma (0.06%), Ground Black Pepper
Watermelon & Chilli
Watermelon (36%), Cucumber (33%), Tomato (16%), Olive Oil, Red Onion (6%), Green Chilli (0.8%), Red Wine Vinegar, Pink Himalayan Rock Salt, Basil (0.02%), Black Pepper
Spinach, Mango, Lime & Baobab
Mango (68%), Filtered Water, Lime (5%), Spinach (2%), Mint (0.6%), Baobab (0.03%)
Beetroot & Mint
Beef Tomato (43%), Cucumber (29%), Beetroot Juice (12%), Beetroot (6%), Red Onion (4%), Olive Oil, Apple Cider Vinegar, Balsamic Vinegar, Pink Himalayan Rock Salt, Mint Leaves (0.3%), Lime, Ground Coriander Seed, Black Pepper