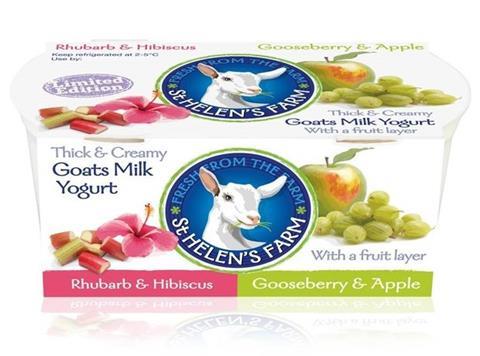 Dairy brand St Helen's Farm is to introduce two limited edition flavours to its layered fruit yoghurt range as it celebrates its 30-year anniversary.

From mid-March, British-themed Rhubarb & Hibiscus and Gooseberry & Apple flavours will replace the existing Raspberry & Elderflower and Sicilian Lemon variants.

The 2x125g twin-packs (rsp: £1.87) will be stocked in Waitrose and Ocado and mark the start of a 12-month marketing push to recognise the brand's three decades in business.

"St Helen's Farm is dedicated to innovation as flavour is such an important factor when consumers are looking to switch from cows' products," marketing manager Vicky Unwin said.

"Flavour perception is one of the biggest barriers when consumers are considering the switch, so it's important that our portfolio offers tasty but familiar flavours to reassure consumers of our taste credentials, which is why we develop new flavours every nine months."

The Yorkshire-based farm, which started out in 1986 with a few hundred goats and began supplying supermarkets with natural and flavoured yoghurts, has also redesigned its fresh goats' milk to highlight the brand's heritage and expertise in a bid to attract customers contemplating a switch to alternative milk.

A new advertising campaign across consumer lifestyle magazines and digital channels will also roll out over the next couple of weeks.

The former family-run goats milk producer was bought by Primula owner Kavli in 2013.