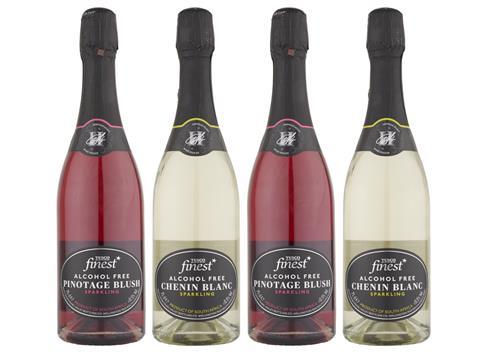 Tesco has rolled out two new own label alcohol-free sparkling wines.

The Finest Pinotage Blush and Chenin Blanc (rsp: £2.75), which launched this week, are produced by South Africa's Origin Wine. They are made by beginning the fermentation process on pinotage and chenin blanc grape juice, and then cutting it off before the alcohol content reaches 0.5%. Tesco said the drinks had been developed to replicate the experience of drinking wine as closely as possible.

"There are plenty of non-alcoholic wines out there, but we believe these new drinks, which have been developed for us, will offer those drinkers wishing to avoid alcohol the closest taste to a real glass of wine," said Tesco drinks buyer Tauseef Parkar.

"Both drinks are deliciously light and refreshing, bursting with summer flavours, and have been created as a non-alcoholic match for Prosecco and Prosecco Blush. They are also designed to look like elegant bottles of sparkling wine, rather than fruity flavoured soft drinks - something that would create a 'wow' factor rather than embarrassment if brought along to a party."

Last January, Accolade Wines teamed up with Dave Pahl, founder of pioneering 1990s alcopop brand Two Dogs, to launch alcohol-free sparkling infusion Echo Falls Tisane (rsp: £3.49). The drink is listed in Asda and Sainsbury's.