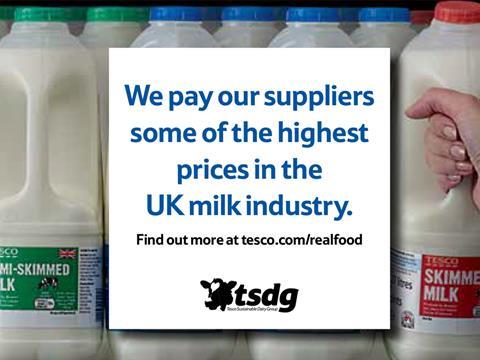 Sainsbury's, Marks & Spencer and Waitrose have insisted they will not follow Tesco's lead in reviewing their aligned pools of dairy farmers and stressed they remain commited to the dairy pool model.
Tesco announced last week it was launching a "comprehensive and thorough" review of the Tesco Sustainable Dairy Group (TSDG) to reflect the increasingly global nature of the dairy industry, price volatility and key structural changes such as the abolition of European milk quotas and industry consolidation.

The move has raised questions about the future of supermarket aligned milk pools more generally, but retailers operating pools similar to TSDG said this week they had no plans for a review.

A spokesman for Waitrose said: "We're not reviewing our model, we think it works well for our farmers and us." M&S also said it had "no plans to review our dedicated pool of farmers" while Sainsbury's said it was "not making any changes".

Tesco currently pays the 650 members of the TSDG 30.93ppl for their milk - significantly higher than the current market average of 24.06ppl [AHDB Dairy].

Once collected, the milk is processed by third-party manufacturers such as Arla and Müller Wiseman before going on sale as Tesco own-label products.

The TSDG review comes after a poll for The Grocer by Harris Interactive earlier this year revealed few consumers recognised the work done by Tesco on milk prices: a quarter thought it paid its farmers the worst milk price in the market.

With this in mind, and given the disparity between Tesco's farmgate price and the market average, the review of the TSDG was "not unexpected" said one dairy industry expert. "When average farmgate prices have fallen as far as they have, it's inevitable that this type of business model has to change, competitors have a clear commercial edge when the market goes down", he added, while questioning "what's in it for Tesco" for continuing with the model.

However, he added a revamped TSDG following the same supply chain controls used by the retailer in other categories could also prove beneficial in the long run.

"If they use their buying power on inputs such as feed and fertiliser they could actually bring down the cost of production and become more efficient," he suggested.

Tesco refused to be drawn on whether the review may result in a cut to farmer milk prices or member numbers for the TSDG. No timescale has been placed on the review.