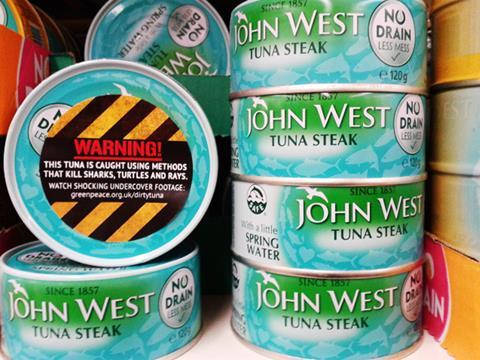 Tesco is to delist a number of its core John West branded tuna products by the end of this month as part of its commitment to increasing the amount of sustainably-caught seafood it sells.
The move follows a pledge by the retailer in April to increase the amount of MSC-certified seafood SKUs it sold from 16 to more than 80, and to ensure that all tuna sold in its stores – whether they are own-label or branded – is sourced in a sustainable way.
Since 2012, all of Tesco's own-label tinned tuna and tuna used as an ingredient in its own-brand sandwiches, pastas and salads has been sourced from pole and line fisheries. The retailer promised in April to extend strict sustainability requirements to branded tuna, accepting only pole and line, FAD-free or MSC-certified tuna, and launched a review of the sourcing practices of its tuna brands.
"We said we would subject our branded suppliers' sustainability plans to a review, to make sure they had credible plans in place to meet these requirements," said Tesco group quality director Tim Smith.
"We have now completed our review, and as a result have decided to de-list a number of core John West lines with effect from the end of July.
"Our customers will still see some John West tuna products on our shelves, and we are working with John West on a plan for these remaining lines to be converted to sustainable tuna sources as soon as possible."
Tesco's decision to ditch some John West tuna SKUs was welcomed by Greenpeace, which has been waging a long campaign against the brand and its owner Thai Union in a bid to persuade it to change its sourcing practices.
"The UK is one of the most sustainable tuna markets in the world," said Greenpeace oceans campaigner Ariana Densham, who claimed John West's "unsustainable tuna, caught using destructive fishing practices which harm all kinds of marine life" had sat at the centre of the market for too long.
"John West broke their sustainability promise to consumers and now they're paying the price," she added. "It's a credit to Tesco that they have put their money where their mouth is and taken John West's tuna products off the shelves. Now it's time for other retailers like Sainsbury's to do the same."
However, John West insisted the delistings were driven "by commercial negotiations as much as sustainability considerations".
Some 20% of Tesco's John West seafood range had been dropped, she confirmed, including some sustainable non-tuna SKUs. "Six John West red salmon and pink salmon products which are being withdrawn will be fully MSC certified by next month and meet all of Tesco's sustainability requirements," she added.
John West shared Tesco's aspiration to "increase the level of sustainable seafood available to consumers" she stressed, and was the only seafood brand in the UK to have entered into a partnership with WWF-UK to "deliver environmental sustainability across all the fish we sell".