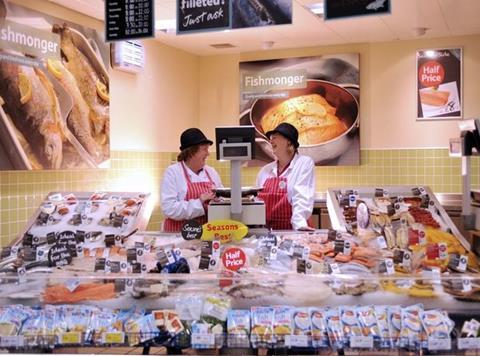 Tesco is to significantly increase the amount of sustainable seafood it sells by expanding its chilled range of Marine Stewardship Council-certified fish and introducing the standard across its frozen offering.

The retailer said today (29 April) it had begun listing 28 different types of chilled prepacked fish carrying the MSC ecolabel - including cod fillets, smoked kippers, haddock fishcakes and fish fingers, and would roll out the label on products sold across its 656 fresh fish counters from May.

Tesco is also planning to add MSC-certified fish to its frozen range later this year, it said, with the commitment equating to a rise in accredited lines it sold, both chilled and frozen, from just 16 to more than 80.

In a move Tesco said put it in a leading position on sustainable seafood, it has also pledged that all tuna sold in its stores would be sourced in a sustainable way, whether own-label or branded, although it declined to give a timescale for implementation, and said brands would be allowed "sufficient time to meet these requirements".

The measures means the percentage of MSC-certified seafood sold by Tesco will rise from just 5% in January to around 30% by the end of 2016, The Grocer understands. In comparison, some 76% of the seafood Sainsbury's sells is MSC-certified, with Lidl standing at 53%, Waitrose at 51% and Aldi at 37%. Morrisons currently sells the least amount, with just 2% of its seafood range carrying the NGO's ecolabel [MSC January 2016].

"Customers tell us it's important they can be sure the fish on our shelves is caught in a way that maintains healthy fish stocks and doesn't cause harm to other sea life or the ocean environment," said Tesco group quality director Tim Smith. "Rapidly expanding the amount of MSC ecolabel fish on our shelves and counters will make sustainably sourced fish affordable and accessible for shoppers across Britain," he added.

MSC CEO Rupert Howes claimed Tesco was "uniquely positioned" to help British shoppers put more MSC ecolabelled, sustainable fish on the table.

"By helping their customers choose certified sustainable seafood, they are also helping them to recognise and reward sustainable fishing, ensuring healthy fish stocks, and healthy oceans for generations to come," he said.