When lockdown hit, buyers and brands had to quickly adapt to a new normal of Zoom meetings and home deliveries. Turns out, there are benefits to this new way of working
When the pandemic left a loo roll-shaped dent in supermarket availability in March, many suppliers found themselves talking to retailers more than ever before.
"There were frequent but short conversations driven by availability and trying to get product into stores at the right time," remembers Andrew Thompson, MD at Sentinel Management Consultants. "There was a bit of blitz spirit, a sense we were all working on this together, that we had a common enemy."
Rosie Baulcombe, head of sales at Indie Bay Snacks, recalls buyers being "very communicative" as the pressure rippled through supply chains and staple products. "We sent a lot of samples to homes and had some good phone conversations."
Then loo rolls reappeared. Suddenly suppliers found their retail contacts had, well, gone off grid.
"As the reality of lockdown set in and some areas started to struggle, [contact] slowed down, and we received much more blanket feedback around categories being deprioritised," says Baulcombe. "It's been a bit of a rollercoaster when it comes to buyer responses."
Some established fmcg brands struggled to get in front of a buyer for months, says Thompson. And for new products? "It was an absolute nightmare." That's despite a steady stream of NPD continuing to come to market (see picture, above, for latest examples).
Even as grocery returns to some kind of equilibrium – sales growth 'slowed' to 14.4% in the three months to August, according to Kantar – the dynamic between buyer and seller still looks vastly different.
From pitching products over Microsoft Teams to negotiating contracts while your kid 'Zoom bombs' in the background, and buyers handling their entire workload from the kitchen table, the relationship is virtually unrecognisable from a few months ago.
But is it a change for the better, or the worse? Well, that depends on who you talk to.
Undoubtedly for some traditional salespeople, the shift away from face-to-face presentations or even a chat over coffee has been a major blow, says Thompson. "Salespeople are often quite gregarious, and good at building rapport quickly." Those skills are "driven by face-to-face or 'in the room' communications".
"I think a lot of account managers are struggling with it. They've built their careers off the back of these skills and it's like someone has cut their arm off."
Stephen Barlow, CEO at Euro Food Brands, points out the skillset needed to sell and negotiate on Teams or Zoom is "so different" to a face-to-face meetings. "It's been great where our sales managers already have a trading relationship but it's more difficult if you're trying to launch new products into new categories."
Particularly given that – still adjusting to both new working conditions and volatile shopping habits – some buyers are hanging on to a slightly risk-averse mentality that developed during the height of lockdown.
"Buyers have got their heads down [and] for some of the retailers NPD is something they're not focused on at the moment," says Ged Futter, director at The Retail Mind and a former Asda buyer. "That's very short-sighted. You can't stop your focus on new products and brands – it's what customers expect."
"The younger the buyer, the less willing they are to take risks"
That mentality is exacerbated by a far younger buying population, he believes. "The younger the buyer, the less willing they are to take risk. And that's what a new supplier brings. You don't know them, and you don't know the products. But risk brings you opportunity, it gives you a point of difference."
Still, not everything has changed for the worse. There are plenty of positives to be found in the new buyer-seller relationship.
"How we communicate, what we sell, where we sell, and how we support our customers – all of it has changed," accepts Clare Bocking, chief commercial officer at distributor DCS. "But it's been for the better, in every instance."
Every instance? She thinks for a second, then nods. For starters, there's the fact that a meeting via phone or video conferencing cuts out days spent travelling to various retailer HQs for a one-hour meeting, and all the time and expense that entails.
Instead "there's the ability to have conversations without a formal set-up or meeting being required", she says. That in turn creates extra time for suppliers on preparation and planning – and lends the conversation itself a far more focused tone. "It gives a level of conciseness, if it's properly done, that's more efficient," says Bocking. "You're able to be more honest and direct so you can come to that solution more urgently."
Efficiency
That efficiency is, in many cases, paying off. More time spent on preparation and poring through data or insights not only allows suppliers to add more value to buyers, believes Bocking, but also creates the chance to spot less straightforward sales opportunities.
It's how DCS worked successfully with Andrex to start selling loo rolls in B&Q, how Gillette mitigated closures on the high street by securing a spot on Asos, and how Dettol got a foothold in hospitality, signing a deal with Hilton in April.
"It requires a bit more thinking," admits Bocking. "You need proper questioning, to be really listening – but that's the foundation of a good salesperson."
That a Zoom call is less hassle to schedule than an hour-long PowerPoint presentation also means that – as the peak of the crisis has passed – buyers are starting to make themselves more easily available than before.
"Pre-Covid it was always so hard to get those meetings in the diary," says Neil Brenson, associate director at Jellybean Creative. "Diaries had to be co-ordinated, travel and overnight accommodation arranged. You'd wait in lobbies while previous meetings overran or there was the dreaded no-show when a buyer had to leave or got called into a higher-level meeting."
The ability for a quick 15-minute video chat has not only made many buyers more available, accessible and – in some cases – receptive, it's also meant all the right people from sales, marketing, finance and logistics can be on the same call, at once. "We've seen quite a few decisions fast-tracked and new listings agreed as a result," adds Brenson.
Though brands have had to be a bit more patient in some cases, as buyers adjusted to new working conditions, "the appetite for NPD has definitely returned", says Hallam Wood, head of grocery at Swedish-inspired crispbread brand Peter's Yard. The brand says it has "won listings with all the accounts we've pitched to" in recent months.
Of benefit to both buyer and supplier is that logging on to a meeting from home can also really help to humanise the whole process. "In video calls with buyers I've seen their kids' faces pop up behind them, and I've sent samples to their home addresses," says Baulcombe. "It's humanised the process and shown how much we share."
"In video calls with buyers I've seen their kids' faces pop up behind them"
"It can almost help the guard to drop down a little bit," adds The Retail Mind's Futter. "You're on neutral territory. You're personalising the setting and how you're coming across, which often softens how the conversation can go."
None of which is to say, for new brands in particular, there isn't still a need to stand out in buyer inboxes or get creative with the capabilities of video conferencing. "We know buyer inboxes are full to bursting," says Brenson. "You still need to be able to cut through and rise above everyone else."
There are plenty of examples of that kind of creativity. Some salespeople have organised surprise celeb cameos on Zoom, for example, to introduce new marketing campaigns. Others have set up virtual tours of their factory to show off new manufacturing capabilities and development kitchens. Other buyers have opened the front door to find hampers on their doorstep, packed with all the ingredients they need for a family dinner, and a note inside inviting them to a virtual cook-a-long with celebrity chefs.
To make up for the loss of touch and taste on a virtual presentation, one brand sent a bottle of low-alcohol gin and some tonic to a buyer's home with the label covered up and asked them to pour it over ice. "It was only afterwards that we encouraged them to remove the sleeve and see it was low alcohol," says Brenson. "Then we had our follow-up meeting."
There is just one flipside to these home deliveries: "It's harder to gauge reactions compared with face-to-face meetings. Without being there in the room, you don't have the same opportunities for storytelling, so you're really relying on a product-first approach."
Social media
Others are getting creative by using different channels of communication. Take James Cadbury, founder and CEO of Love Cocoa, who has made greater use of social media since lockdown hit.
Stuck at home without colleagues, many professionals are spending up to 26% more time on LinkedIn, for example. "We have found LinkedIn to be key to getting in front of buyers' eyes, with one of our recent posts having over 50,000 views, 1,200 likes and over 100 comments," he says. "We have also seen Instagram DM-ing as a great way to introduce the brand to smaller independent stores."
These are vital lessons, given that it's unclear exactly when both buyers and suppliers will be free to log off and head back out to the days of hand shaking, small talk and swapping business cards. Plus, even when they can, the dynamics of buyer-seller relationships may well have changed for good.
"Everybody is still in the learning period of how to sell and how to work remotely," says Futter. "Everyone has stumbled into it, and it's now a case of, how does it actually work? What does it look like? We're very much in the learning process of doing that."
But "being able to conduct meetings virtually just creates less time and cost for everyone, which is a good thing", says Brenson. "When we are able to return to normal work and to meetings, I think it'll be a combination – everyone has seen the benefits from dealing with each other virtually."
So why would they ever log off?
Could virtual trade shows take off post-Covid?
If you want to get in front of swathes of buyers in one go, trade shows are your best bet. At least, that was certainly the case in the past.
At SIAL Paris in 2018 there were no fewer than 7,200 exhibitors from 119 countries, with 310,000 professionals joining to browse the latest innovation and chat informally to brands. At the Middle East equivalent, deals worth $1bn were struck in just three days.
Right now, the idea of hundreds of thousands of people packed into a conference centre feels far off. So, can virtual shows really fill the gap left by physical events?
Companies such as Product Guru certainly think so. It was first set up in 2018 as a platform to connect buyers to suppliers, a facility that saw 50% growth through lockdown. Earlier this month, the company announced its first virtual food and drink trade show, The Pantry Live.
During a two-day event (5-6 October), buyers were able to browse a virtual exhibition hall of products. They also hosted product pitch events in virtual booths for the categories in which they were buying. Top buyers from Tesco, Waitrose and Co-op were among attendees, says founder Simon Coyle.
Wabel, a self-styled 'B2B matchmaking' company, is another looking to update the classic trade show. Set up in 2012, Wabel organises category-specific events where buyers are pre-matched with suppliers and brands that fit their needs and capacity, rather than a free-for-all in the conference hall.
Though originally an in-person event, all 14 annual summits have now switched to online, where pre-matched suppliers have 20 minutes in a private online meeting with a buyer.
"No travel costs, no pollution, but the same result," says Wabel co-founder Antoine Bonnel.
Three tips on selling virtually in the pandemic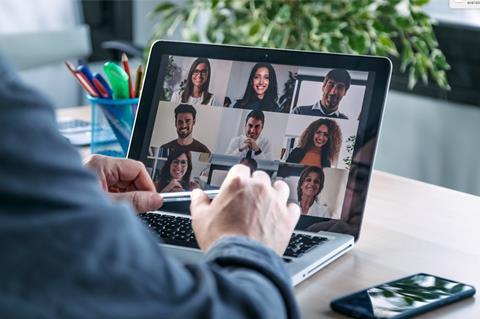 Choose the platform
OK, virtual might be second best to face-to-face for some salespeople. But make the best out of a challenging situation by proactively suggesting the next best communication method: video conferencing.
"That way you have visuals and you can use the tone of what you say," says Andrew Thompson of Sentinel Management Consultants. "Phone is second, and then last is email. But you have to proactively suggest the platform to a buyer."
Be clear about where you add value
Virtual meetings are often shorter and more to the point. Which is a good thing, as long as you're prepared.
"If you're trying to connect with customers or companies for the first time, be really clear on what value you can add," advises Clare Bocking of DCS. "How do you engage in a way that helps with a challenge they have? If you're as robust as you can be with planning, it can give you a fast track. You just need to be really clear on the 'why'."
Be proactive in scheduling calls
"Semi-regular video calls have helped us maintain good relationships with buyers," says Hallam Wood of Peter's Yard. "We make sure we get the next date in the diary before finishing so we don't have to chase via email in the weeks following.
"We've also been proactive with booking our promotions and media and have shared these updates in meetings to ensure buyers feel comfortable and up to date."