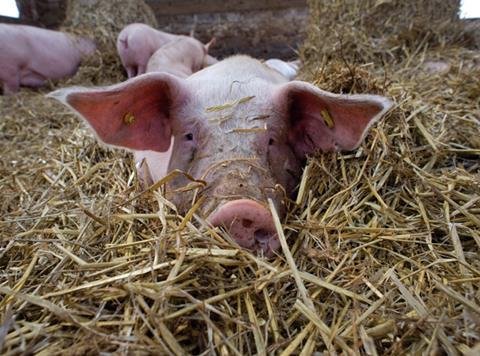 Post-Brexit trade deals should ensure tariff-free access is reserved for foods that meet the equivalent standards of those expected of British farmers, the Trade and Agriculture Commission has concluded.
The commission's much-anticipated report set out 22 recommendations on Tuesday, as part of a call for a new agri-food trade strategy that balanced a "liberalised approach to opening up trade combined with a safeguarding of standards".
The proposals included an innovative tariff scheme that would impose different levels of duty on imported foods, depending on their equivalence with UK standards.
The scheme would be "more nuanced" than the 'dual tariff' proposal reportedly put forward by the UK in talks with the US last year, said commission chair Tim Smith. It should also include an outright ban on foods such as chlorinated chicken and hormone treated beef, he added.
But on foods where the equivalence was less clear cut, Smith said the tariff scheme would give foreign exporters the option to either "fix the problem at their end" to ensure their food does not undercut British farmers, "or else pay the tariff".
Vicki Hird, head of farming at Sustain, a coalition of NGOs, welcomed the emphasis on protecting standards, but said the tariff proposal "raises a number of questions about how and who will decide what is equivalent". She added: "Will the government be committed enough to stand up to future trading partners on these issues?"
The commission's report recognised the scheme could be particularly hard to implement in talks with the US, Australia and New Zealand, which were already well-progressed. It instead proposed that the scheme could be a "strategic aspiration for UK trade policy in the medium and longer term".
Smith said that while he hoped the recommendations influenced trade deals immediately, he did not want to distort already well-advanced negotiations. "That is why it would have been better, in my independent point of view, if the commission had been set up two years ago rather than in July 2020."
The report also made several recommendations for how the government could help boost British food exports, including the appointment of a specialised 'agri-food trade' minister to "ensure policy coherence across UK government," and a much expanded "network of agri-food experts based in embassies in target markets".
It also called on the government to work with the Food and Drink Sector Council to develop a specialist agri-food export body for England that would provide "one-stop shop trade information" as well as providing additional funding for existing food and drink export organisations.
Although the UK currently has two official counsellors in place for China and the Middle East to help British businesses selling to the region, Smith said it was "absolutely, definitely" under-resourced in its support for exports.
"The amount of people that we've got abroad is not sufficient," said Smith. "It's just not big enough to deal with the vast array of manufacturers, production facilities here that could be utilised for export."
Smith said he hoped the report would make the largest impact in "providing opportunities for farmers and growers and exporters, to play a much bigger global role".
NFU president Minette Batters said the report set out a "bold vision" and dispelled the notion that it was easy to strike a balance "between doing trade deals on the one hand and safeguarding our high standards of food and farming on the other". It was a message, she said, that "UK farmers and the British public have too often been given".
She added there were "many good recommendations" in the report, including calls for a "coherent and explicit trade strategy" encompassing both trade deals and general trade policy, "an approach to imports that has our high standards of production at its core, and a Food and Drink Exports Council to foster a collaborative and targeted approach to growing markets overseas".