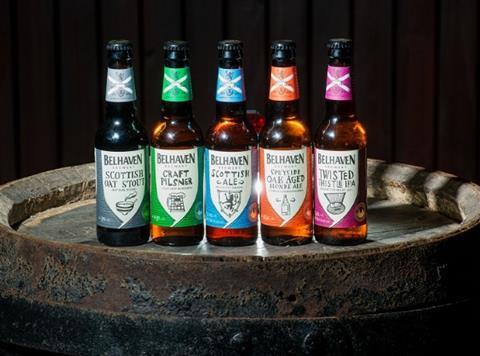 Asda's Scottish stores are to stock 16 craft beers from a trio of local breweries in deals worth £325,000 in total.
More than 50 of Asda's 62 Scottish stores will sell the brews from Broughton Ales, Greene King-owned Belhaven and Williams Brothers.
Belhaven and Broughton Ales have a long history with Asda, but Williams Brothers is a new supplier to the group.
"Broughton, Belhaven and Williams Brothers beers are premium quality and will give customers a new and local choice, particularly with the beer trend continuing to boom and new flavours on offer," stated Asda regional buying manager for Scotland Brian O'Shea.
Feedback from everyone who had tried the new lines had been "incredibly positive," he said, adding that the retailer hoped to increase the range of products available in stores "in due course".
Asda is the only major supermarket currently stocking Broughton's Black Douglas (52 stores) and its Proper IPA (14 stores) but Tesco, Sainsbury's and Morrisons all sell Dark Dunter. The Williams Brothers products available in Asda are also sold in other supermarket groups. Belhaven's 330ml range is currently only in Asda but its 500ml products are in other stores.
New Asda listings
Broughton Ales
Black Douglas (5.2%), Dark Dunter (4.8%) and Proper IPA (5%), all in 500ml bottles
Belhaven
Scottish Ale (330ml, 5.2%), Craft Pilsner (330ml, 4.8%), Speyside Oak Aged Blonde (330ml, 6.5%), Twisted Thistle IPA (330ml, 5.6%), Scottish Oat Stout (330ml, 7%), Belhaven IPA (500ml, 4.2%) and Belhaven Black (500ml, 4.2%)
Williams Brothers
Birds and Bees Ale (500ml, 4.3%), Caesar Augustus Ale (500ml, 4.1%), Froach Heather Ale (500ml, 5.0%), Joker IPA (500ml, 8.3%), MOTP Ale (500ml, 4.9%) and Pavlovs Dog Ale (500ml, 4.3%)