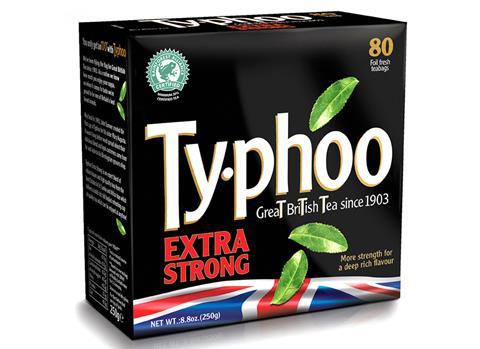 Typhoo has unveiled a new premium black tea - and stated its commitment to the mainstream market.

The launch of Typhoo Extra Strong comes in the face of declining category and brand sales. A 3% slump in overall tea value has been driven by a 4.7% fall in sales of standard tea bags [IRI 52 w/e 20 July 2014], while value sales of Typhoo tea have fallen 17%. Many shoppers are switching to alternative categories such as green, speciality and herbal teas.

Typhoo said it was hoping to tap demand for premium teas with the launch of Typhoo Extra Strong, which it described as an "expertly blended, robust, full bodied tea" from India and Africa. Packaged in a black 80-bag box (rsp: £2.49), it makes its debut in Tesco next week ahead of a planned wider retail rollout. It follows the launch of premium tea Typhoo Gold in February.

Typhoo was committed to putting the excitement back into mainstream black tea, said CEO Keith Packer, adding eight out of 10 cups drunk in the UK were black tea.

"The growth in the ­premium sector of the tea market is predominantly driven by consumers' out-of-home experiences and people looking for a stronger-tasting tea," he said. Citing IRI data [52 w/e 11 October 2014], Packer added strong teas were most often consumed at breakfast time, and that value sales of breakfast teas had grown 10% year on year.

Last week, Twinings unveiled its own growth strategy, which includes new merchandising plans and 16 loose leaf blends packed in resealable pouches.