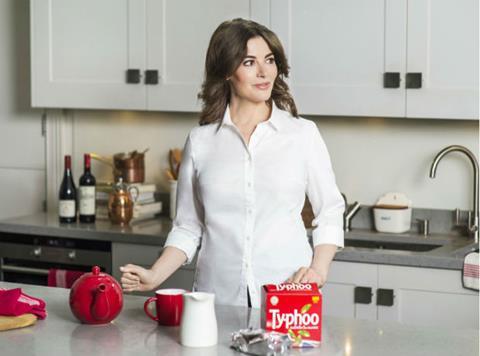 Typhoo has bagged Nigella Lawson to become the new face of the tea brand, replacing adventurer Ben Fogle.
Lawson is set to star in a new 30-second commercial that aims to celebrate great tea moments.
The ad launches tomorrow (15 January) during ITV's Good Morning Britain. It sees Nigella share her recipe for the ultimate tea moment.
On a lazy Sunday, she is seen curling up on the sofa with a cup of Typhoo and a slice of cake.
Typhoo has invested £5m in the launch phase of its new Typhoo Moments campaign, which will be supported by outdoor advertising, PR and social activity.
"It's an exciting time for Typhoo as we launch our new partnership with Nigella and a through-the-line Typhoo Moments campaign. Typhoo Moments will mean something different to everyone and our aim is to encourage consumers to identify and savour their moment," said Typhoo CEO Somnath Saha. "We plan to use the campaign as a launch pad to build on our growth to date. We want to inspire tea lovers across the UK to take a second to celebrate one of life's simple 
pleasures and enjoy a great brew moment."
Saha said Lawson was a perfect fit for the new campaign as she has previously come out publicly as a fan of the brand. In September 2013, Nigella posted a picture on Twitter of the UK brands she had packed for a prolonged stay in LA, which included Typhoo. When questioned by one of her Twitter followers later that year about her tea of choice, Lawson said she alternated between Typhoo and Twinings Lady Grey.
Saha said the tie-up with Lawson would be long-term rather than a one-off campaign. He also pointed to the impact that Lawson's endorsement can have on sales. When she featured avocados in her recent TV programme, sales of the fruit spiked by 25%.
This week, Typhoo recorded a 16% increase in sales to £81.8m thanks largely to the growth of its main black tea and the launch of a new 'extra strong' variant. Profits for the year to 31 March 2015 were broadly flat at just less than £1m.
Saha said in the latest accounts the group had experienced strong and stable growth in the past few years despite the increasingly challenging retail market and pricing volatility in the fmcg sector. He added the own-label arm of the business had also grown through NPD. According to The Grocer's Top Products survey, Typhoo had the strongest growth of all the major black tea brands with sales up 5.8% for the year to 10 October.