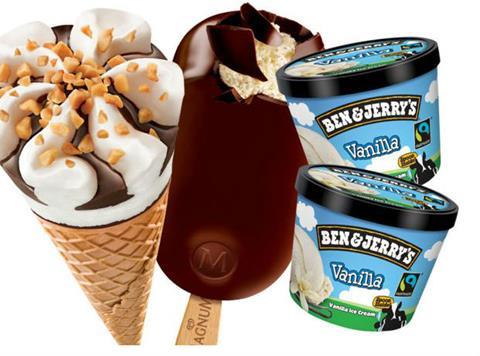 Unilever is relaunching its adult single-serve ice cream portfolio with a 250 calories cap - a move that will wipe more than £5m off its retail sales in the UK and Ireland.

The calorie limit - part of its Sustainable Living Plan - will affect Magnum, Cornetto, Ben & Jerry's and Feast, with Solero already positioned as a low-calorie option.

Reductions had been achieved mainly through re-sizing, with some "minor" recipe changes that would not affect taste, Unilever said.

From spring, Ben & Jerry's single-serve tubs will come in pots reduced from 150ml to 100ml, with a reduction in the rsp from £2.04 to £1.50. There will be smaller size drops for Magnum Almond (110ml to 100ml) and Feast Chocolate (92ml to 90ml).

Unilever had to remove several SKUs to ensure all products in the portfolio complied with the calorie cap without compromising flavour, Noel Clarke, executive director, brand building for Unilever UK & Ireland, told The Grocer.

The casualties are Cornetto Choc & Ball, Magnum Infinity Chocolate, Magnum Sandwich Almond and Magnum Infinity Chocolate & Caramel, representing retail sales worth £5.4m.

Unilever hoped to make up lost sales by increasing volumes, Clarke said. There was always a risk of a consumer backlash, he added, but was confident shoppers would "appreciate what we are trying to do… and buy more".
Developing the calorie-capped portfolio had taken Unilever 18 months, with a "significant amount" invested in research, development and 'factory' to achieved the goal, said Clarke, adding the UK and Ireland would be the first markets globally to implement the changes.

The move follows the introduction of a 110 calories cap across Unilever's kids' ice creams last January. It comes as the company this week announced underlying sales growth of 4.1% in 2015, with a positive currency impact pushing turnover up 10% to €53.3bn (£41.1bn). Ice cream performed well.