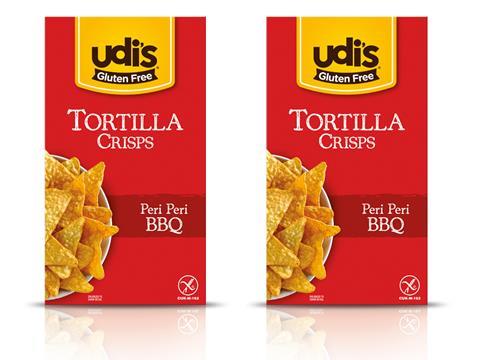 US gluten-free brand Udi's has revealed plans to expand into the frozen food category in the UK next year and ramp up its presence in the snacking market.

The business, which is this month marking its second anniversary on UK shelves, said expansion into frozen food was a "natural progression" following the development of its range in this country.

Udi's, owned by Colorado-based Boulder Brands, made its UK debut in Tesco stores in October 2013 and has expanded its distribution points from 5,000 that year to 22,000 in 2015, according to Udi's UK MD Simon Hazlett. Over that period its range has grown from 19 lines to more than 50 across baked goods and grocery.

While Udi's would not say what frozen products it is considering for the UK, Boulder produces a range of Udi's branded pasta dishes in the US and also owns the Evol brand, which includes ready meals, filled tacos and breakfast burritos.

Snacking is seen as a major opportunity for the business, which last week launched tortilla crisps in Asda stores. Early next year it will expand its UK snacking range with six new items including nachos and snack bars that made their debut in Portugal this month - the first European listing for the brand.

Udi's is also looking to the development of in-store bakery to offer gluten-free consumers greater choice, added Hazlett. A trial in two Asda sites of in-store bakery products - which are baked in a wrapper to prevent cross-contamination - has just been expanded to four sites.

"In-store bakery can open the door for more artisanal products and short-life lines - some pretty exciting stuff," said Hazlett.