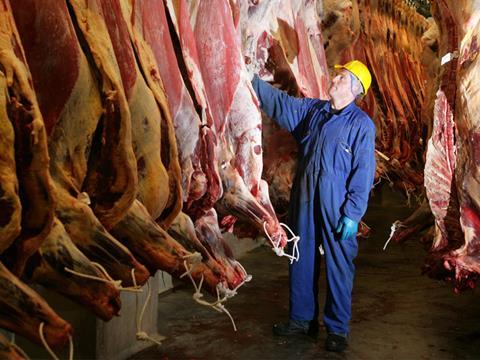 British meat prices are unlikely to be affected by the looming shortage in the US, despite claims a fall in global supply may drive prices higher.
Major US processors including Tyson Foods and JBS have shut plants due to the coronavirus outbreak, with a quarter of pork and 10% of beef production now inoperative, according to estimates by the United Food & Commercial Workers International Union. The lost volume is about equivalent to the US' typical export quantities.
If the US was unable to export to foreign markets like China, some in the UK have questioned whether Beijing would increasingly turn to Europe to make up the shortfall. The increased demand would have a knock-on effect on prices.
But it remains unclear whether US exports will be affected, said Jonathan Eckley, head of Asia Pacific exports at AHDB. "The jury is out on the situation in the States and how big that impact is."
Many in the US hope the issue will quickly be resolved after Donald Trump ordered plants to remain open on Wednesday. It followed a warning from Tyson Foods that "the food supply chain is breaking" as the number of coronavirus cases at plants rose.
But even if the impact turns out to be severe, China is unlikely to immediately turn to European markets to meet demand.
"The Chinese aren't immediately saying 'oh my goodness we haven't got that from America anymore'," said Nick Allen, CEO of the British Meat Processors Association. "It takes time to filter through."
"In practice, I don't think it's realistic," agreed Justin Sherrard, global strategist for animal proteins at Rabobank, with the UK's carcase balance posing the biggest obstacle.
"However, it really does depend on how quickly those plants in the US can get back to normal."
Despite Trump's insistence that meat plants operate as normal, it is unclear whether workers will comply. Processing plants that shut down earlier have continued to see significant absences once the plant reopened.
"The only conclusion we've been able to draw from that is that the workers were not comfortable returning to work where there'd been an outbreak," said Sherrard.
If workers refuse to return to work, the crisis could be far from over.