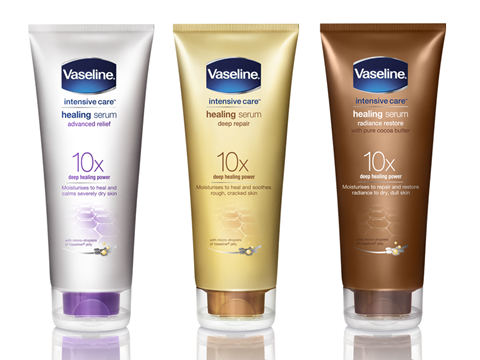 Unilever has added a body serums range to its Vaseline skincare brand.

Vaseline Intensive Care Healing Serums, rolling into Asda now, comprise three variants: Deep Repair for rough cracked skin, Radiance Restore for dull dry skin, and Advanced Relief, designed to soothe severely dry skin (rsp: £7.99/200ml). The trio is dermatologically tested, with each product containing Vaseline jelly and a blend of moisturisers

Pitched as a premium range, the newcomer would build on the popularity of serums in the hair and facial skincare categories, said marketing manager Fiachra Moloney.

"They will encourage consumers who are already engaged with serums to incorporate this format into their everyday bodycare routine," she said, adding the premium price point would encourage consumers to trade-up.

Unilever is supporting the NPD with digital and in-store activity.