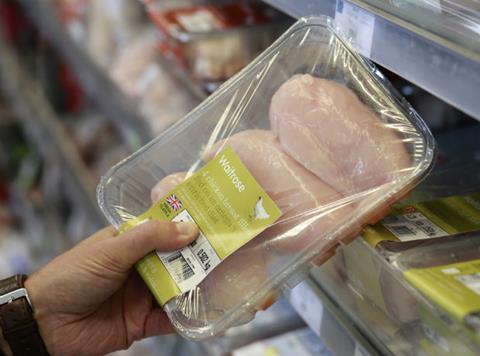 Waitrose is claiming a UK first with the launch of chicken naturally enriched with omega-3.

The chicken is produced exclusively for Waitrose by Moy Park from birds fed on a diet containing algae that is naturally high in omega-3 - polyunsaturated fatty acids that help to maintain normal heart, brain and vision function.

A total of 10 new products, including whole chickens, breast fillets and thigh meat, go on sale nationwide tomorrow, priced from £3.59 per kilo.

The omega 3 chicken range is the culmination of a decade-long project by Waitrose, working in partnership with Moy Park and animal nutrition specialist Devenish Nutrition, in reaction to concerns from doctors that consumers were not getting enough omega-3 in their diets.

This has been a particular concern for children, who often dislike oily fish and other foods naturally high in omega-3.

Waitrose claimed initial trials had shown eating the enriched chicken for five weeks resulted in higher levels of omega-3s.

"Our research is showing that this nutritional breakthrough has the potential to have a significant impact on health," said Waitrose agricultural director Heather Jenkins.

"What's exciting is that it's improving the nutritional content of something customers already consume frequently as part of their diets."

The development was welcomed by leading public health experts, who said it could "revolutionise" nutrition.

"It's costing £10bn a year to deal with problems of heart disease in the UK. Having a source of omega-3 in our diet has the potential for healthier hearts," said Professor Chris Elliott, pro vice chancellor, faculty of medicine, health and life sciences at Queen's University Belfast.